How to Use a Fire Extinguisher
The ultimate guide of using a fire extinguisher
Workmanship warranty
RELIABLE & ON STANDBY 24/7
UPFRONT HONEST PRICING
5 STAR
SERVICE
RAPID
RESPONSE
Fire Extinguisher
Fire extinguishers are amongst the few devices we own but don't wish to utilise.
So how essential to society are fire extinguishers?
Even if you have never been a victim of a fire hazard, you probably know the importance of having a fire extinguisher installed in your home. Often ignored by most people overlooked safety equipment plays a crucial role in keeping us safe and free from fire risks.
According to Fire & Safety Australia, more than 50% of building occupants aren't confident in operating a fire extinguisher.
Fire Safety Devices
Having adequate fire safety devices within your commercial or household premises is vital to the ongoing health and safety. Especially for family and staff members. Arguably, among the most critical components of any property's firefighting systems are the fire extinguishers. When properly used, fire extinguishers can potentially keep fire under control.
They are extremely effective at stopping flames before they grow out of control. When a fire extinguisher is placed in the context of overall fire incidences. It becomes apparent how much of a difference these tools can make. It can potentially save lives. Especially in premises with a lot of people, such as schools, restaurants and other commercial buildings.
Firefighting Systems
The success rate of these firefighting systems is conclusive enough to highlight their significance. In Australia, nearly 90% of incidences which saw the equipment employed resulted in the being controlled.
Surprisingly, studies have established that not many people know how to use fire extinguishers. This is a hugely disturbing statistic bearing in mind that the most common emergency small business and households should plan for is a fire.
Employers are required to adequately teach their staff not only how to operate and use an extinguisher. As well as, how to accurately assess a fire situation and determine whether or not evacuation is the safest course of action. Before we dwell on how to use one, let us briefly discuss the various classes of a fire extinguisher as well as different classes of fires.
Classes of fire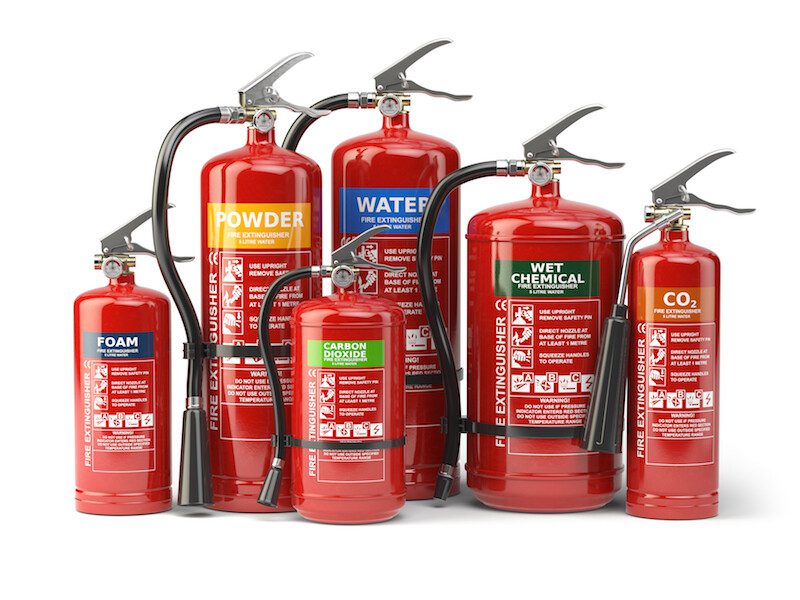 Deploying the extinguisher correctly largely depends on what type it is as well as on the type of material on fire. Using a wrong extinguisher can be ineffective, and at worst, could potentially intensify the fire.
Class A fires – Consist of common combustible materials including paper, wood or trash and anything else which leaves ash after combustion. A water fire extinguisher is best suited to combat class A fires.
Class B fires – Are made up of either combustible or highly flammable liquids which include gasoline, oil and other related materials. A fire extinguisher which works by depleting the oxygen supply usually works best to extinguish these types of fire.
Class C fires – Consist of gases that are flammable such as methane, butane, and propane.
Fires caused by electrical devices – They are always indicated by an electric spark symbol. To effectively distinguish these types of fires, you should first de-energise the circuit then use a non-conductive extinguisher. In this regard, carbon dioxide or dry chemical fire extinguisher should be applied.
Class F fires – These are fires that involve grease, cooking oils, and animal fats. You can extinguish these types of fire by using wet chemical fire extinguishers.
Familiarise yourself with the fire extinguisher
First and foremost, it is imperative to note that before you set out to operate your extinguisher. There are a couple of safety guidelines you must adhere to. You must be familiar with your electrical fire extinguisher.
Most of them usually include a lever or handle, a hose with a nozzle, a safety pin, and seal, the relevant gas, fluid or powder. As well as, the pressure gauge. Make sure you have evacuated every one else from the structure and also be sure to ascertain the location of your fire exit route.
How to use a fire extinguisher
Step 1: Check if the extinguisher is fully charged. Also, ensure that the safety pin is not bent and the nozzle is not damaged. After this, remove the seal.
Step 2: Apply the PASS protocol (Pull, Aim, Squeeze and Sweep). First, pull the pin located at the top of the extinguisher and unlock the nozzle.
Step 3: Aim your nozzle at the center of the flame, but stand at a safe distance!
Step 4: Squeeze the handle. This move will force out the agent. Starting at the fire's central location.
Step 5: Sweep sideways until the fire is fully controlled. Pay close attention to the fire response. If it re-ignites, you can repeat this procedure.[Using the PASS protocol life-saving saving technique]However, if you have the slightest doubt regarding your ability to contain a fire, evacuate immediately and call your local firefighters!
As you may have seen, using a fire extinguisher is simple. The procedure involved is straightforward and you should be able to easily accomplish this task. Nonetheless, it is always better to prevent an electrical fire than to treat one. Always get a qualified electrician to thoroughly inspect your home's electrical system to safeguard against electrical fire.
Gordon's Powers always have a team of experts on hand and ready to dispatch to your location in Sydney. Our nearest emergency 24-hour electrician can be contacted and directed to your site immediately for urgent matters.
Grab a quick, free quote today over the phone contact the experts from Gordon's Powers on (02) 9199 7409. We have qualified level 2 electricians and emergency electricians that are available 24 hours a day.
Contact Gordon's Powers