OUR REVIEWS
What Our Customers Say
Private Power Pole Replacement and Installation – A Sparky's Take
Gordon's Powers can supply and perform the replacement and installation of timber or galvanised/steel private power poles. A private power pole is your very own source of electricity.
Situated on your property, your private electricity pole is connected via cables from your point of attachment to your street's network. A private power pole can also be shared across multiple properties. In any instance, a Level 2 electrician will need to assess the suitability of an electrical power pole or shared private electricity pole for your property.
Gordon's Powers supplies and installs private electrical poles all over Sydney. Our services extend to the Eastern suburbs, Inner-West, North Shore, Sutherland Shire and Western suburbs and we're proud to boast an impeccable track record with all of our customers.
Is a Private Power Pole Right for You?
In situations where a direct connection to the street network pole is deemed unsafe, the installation of a private electricity pole may be recommended. A number of factors are considered, but the most obvious would be if the cables were to impede with roads, trees or walkways. Aside from creating a safe environment, some property owners simply prefer the look of a private electrical pole as it removes the view of unsightly cables from the front of your house.
To find out if a private power pole or shared private power pole is right for you, start a conversation with one of our Level 2 electricians today. We'll address any concerns you may have and we will guide you through from placement through to connection of your private power pole.
If you decide to have a private power pole installed, it is important to remember that you are responsible for its maintenance. In addition to regularly landscaping the area around your private electrical pole, you must have it regularly inspected for any faults or threats. Turbulent weather can damage poles so be extra weary during periods of heavy storm and winds.
If you suspect something is wrong or require an inspection, you can book an appointment online with one of our Level 2 electricians. Poles that are leaning or appear to be unstable 24-hour urgent attention. Our 24-hour emergency electricians service all over Sydney including the Eastern suburbs, Inner-West, North Shore, Sutherland Shire and Western suburbs.
Pros and Cons of a Timber Private Power Pole
Timber private power poles have proven to provide better value for money vs steel private electrical poles. Made of hardwood, they have an expected lifespan of 30-40 years, depending on the environment. Unlike its counterpart, timber poles are non-conductive so pose less risk to its surrounds. They can be made in many sizes and offer the property owner a more natural looking alternative to steel. If longevity, value for money, size and a natural appearance are what you're after, don't hesitate to contact one of our Level 2 electricians to organise your timber private power pole.
As expected with hardwood, a timber pole is susceptible to termite infestation and rot in areas with high levels of moisture. Unless there is an active termite mound nearby or you live by the coast, you generally wouldn't worry about these. Timber poles do not take long to dry after a rainy period so normal weather conditions rarely have a noticeable impact. For those whose timber poles are at risk of infestation and rot, it is advisable you have them regularly checked by a Level 2 electrician.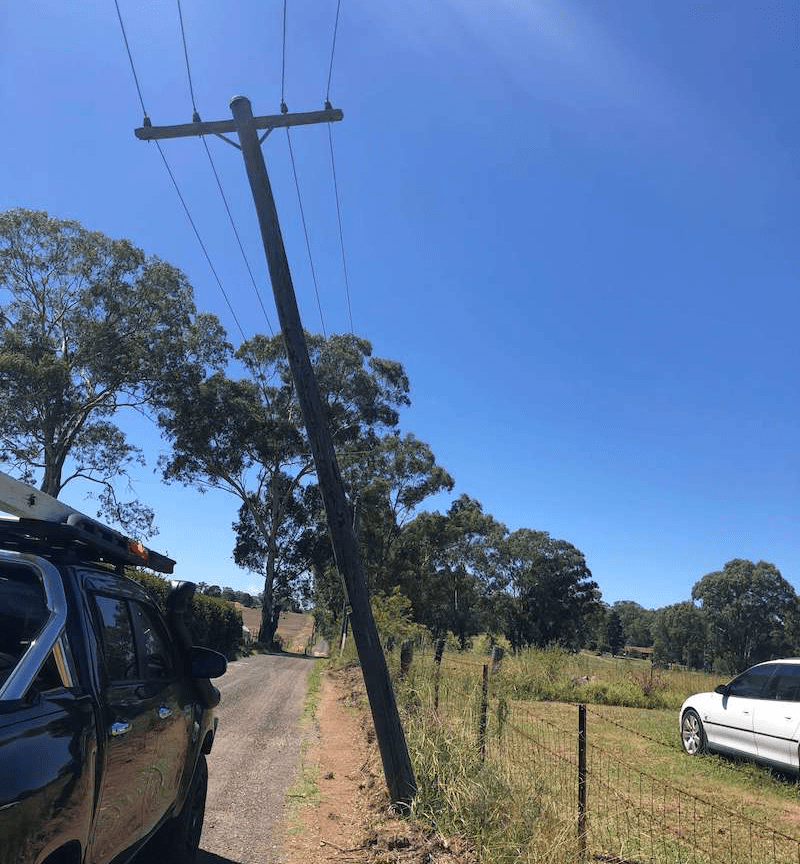 For timber poles that are leaning, with the potential to collapse, our 24-hour emergency electricians can be phoned on (02) 9199 7409.
Subject to personal preference, we've also received comments from clients about the obtrusive nature of timber poles. As they're larger in diameter (and generally height) and cannot be customised to suit the house's façade, timber poles may sometimes stand out like a sore thumb.
Pros and Cons of a Galvanised/Steel Private Power Pole
Galvanised private power poles are rapidly growing in popularity. Before our steel poles are placed, they undergo a process known as galvanisation. The steel poles are submerged in a protective zinc coating that helps to prevent rust. Clients then have the choice of painting their galvanised pole to suit their home, and unlike timber poles, the power cables are snugly hidden away inside the pole.
Galvanised poles are relatively small in diameter and height so this combined with their subtle look, make them the more aesthetically pleasing choice. If you're after subtlety and a budget-friendly option, then a galvanised pole is for you. Our Level 2 electricians await your call.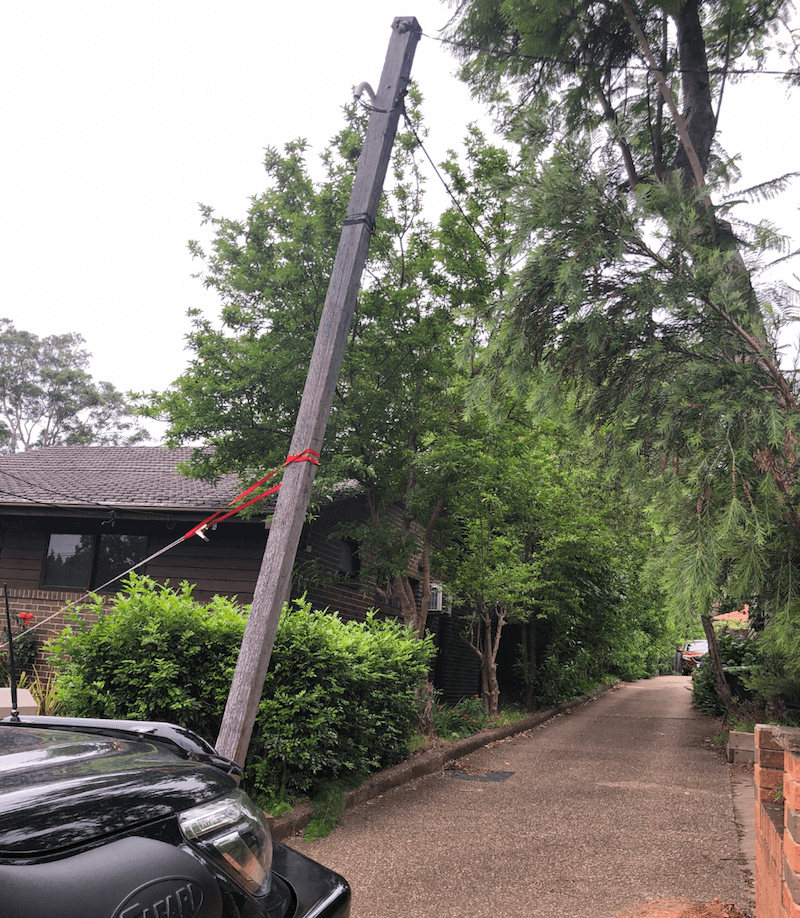 Once the galvanised layer is worn away, a galvanised pole is open to rust and decay. This process is accelerated in areas surrounded by salt water. For this reason, galvanised poles do not last as long as timber poles. Their average lifespan is about 15 years. As with timber poles, ongoing maintenance is required for galvanised poles. You can click here to book an inspection with a Level 2 electrician who will provide tailored advice for your situation.
Gordon's Powers – your one stop shop.
Now that you know a little more about private power poles, leave it to Gordon's Powers to power you through the process. We've got you covered from all angles.
Supply – If you haven't yet made a choice between a timber or galvanised private electric pole, invite us over for a look. We'll talk through both options in more detail and assess what's most appropriate for your location.
Placement – The placement of your private power pole is governed by a set of installation and service rules, including codes, acts and laws. We won't bore you with the details. Leave it to our Level 2 electricians to identify the perfect place for your private power pole.
Installation – Private power poles must be securely planted in the ground. Concerned about the soft soil around its intended placement? Don't worry, we've got contingency plans in place.
Connection – Your private power pole is almost ready to go. Our level 2 techs need to connect you to your street's network then BAM, let there be light!
Maintenance – We've spoken about issues you may encounter over the life of your private power pole and guess what, we're here to help combat them.
Replacement – And once your private power pole has lost its spark, we'll go through all of the above again with you.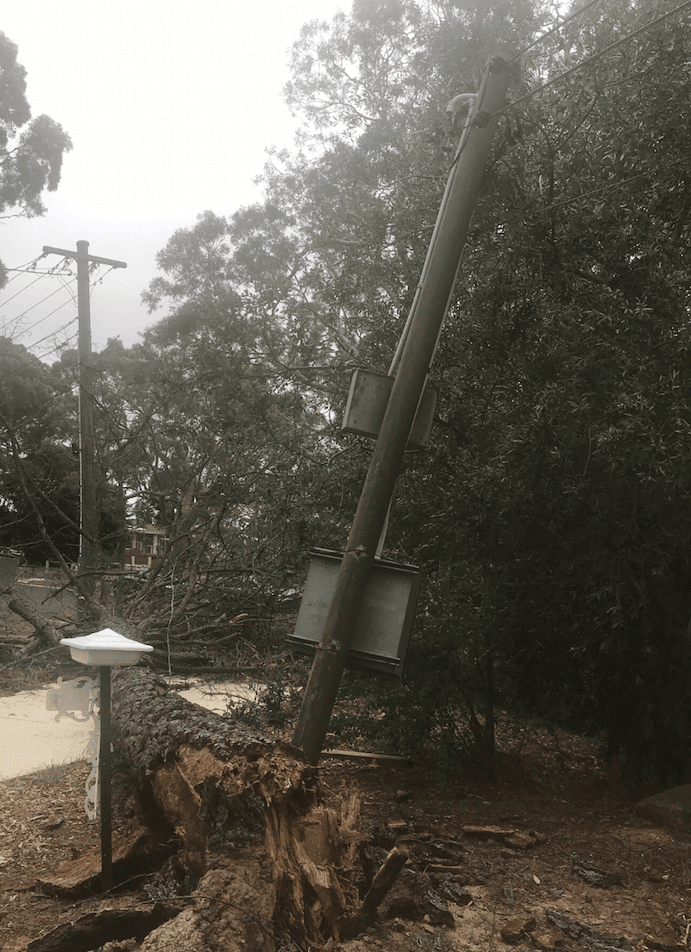 Gordon's Powers is proud to power Sydney 24 hours. Our Level 2 electricians and 24 hour emergency electricians are on call for the Eastern suburbs, Inner-West, North Shore, Sutherland Shire and Western suburbs. Contact Gordon's Powers, a reliable electrician near you today for your free quote or learn why our customers believe we are the best.
Check out
Our Level 2 Services