OUR REVIEWS
What Our Customers Say
Sparky's Take – Which is best, overhead or underground power?
Overhead Powerline or Underground power If you're looking for a single answer, you've come to the wrong place. Over 93% of Australian homes are served with an overhead service cable though recent government intervention has seen the number of underground electrical systems slowly creep up.
Which of the two is best for you, is not a black and white decision. Let's take a look at both to understand why there's such a disparity between overhead powerline service cables vs an underground electrical system.
What is an Overhead Powerline Service Cable?
An overhead service cable comprises conductors that allow for the flow of electricity. Suspended by poles, an overhead service cable has the capacity to carry electrical energy over long distances. If you step into your front yard, chances are you'll sight an overhead service cable. They run from the street's network pole to the property itself or a private power pole.
Overhead powerline service cables can be either single or three-phase, depending on the property's requirements, usually range from 100amps service to 400amps. For example, a warehouse that needs to power large industrial equipment would require a three-phase supply and a home with basic electricity needs like TV and lighting, would only need a single-phase supply.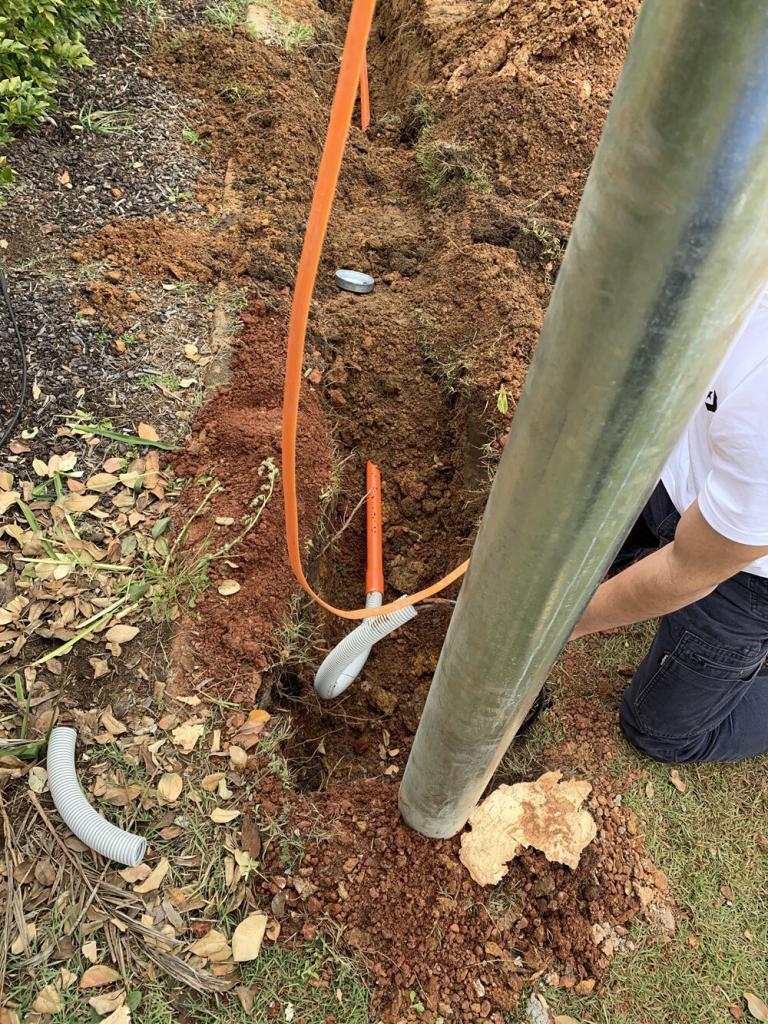 Homes can also have three phase supply for appliances that withhold larger electricity consumption like ducted air conditioning system and extra heating perhaps, it's also common that larger homes these days are fitted with three-phase supply to spread the demand over three phases instead of one (single phase) to ensure there are no overloading issues in the future. Both can only be installed by a licensed Level 2 electrician specialised in overhead powerline work. So reach out and we'll help you decide which option is best for your household or commercial premises.
What is an Underground Consumer Mains?
Like an overhead service cable, an underground consumer main sources its power from the street's network. The difference is that the cables are run underground and are attached to the property's own meter box. For new subdivisions, new suburbs and some areas in Sydney's CBD, an underground electrical system is mandatory. Underground electrical systems can also be single or three-phase supplied.
More often than not, an underground electrical system may not be suitable for your property. If your street prominently utilises overhead service cables, then we may recommend you do the same. Exceptions can be made, though it's best to have one of our Level 2 electricians assess your individual circumstances to provide the most suitable recommendation.
Overhead vs Underground Power
So how did a staggering 93% of Australian households come to use the unsightly overhead service cable? Plainly put cost. Overhead service cables tend to have a longer lifespan than an underground electrical system, offering better value for money. If ever there's an issue, it is easy and quick to identify and correct as they can be viewed in bare sight. As a Level 2 electrician, Gordon's Powers is licensed to supply and install single and three phase overhead service cables to households and commercial premises. Don't hesitate to contact us for a quote if this is the right solution for you.
On the other hand, the overtness of overhead service cables makes them more susceptible to problems. Mother nature is known to wreak havoc on overhead service cables. In periods of extreme weather, you should be extra weary of falling trees and lightning that may cause displacement of the lines and power outages. Wildlife and car accidents can also cause falling overhead service cables. If you become impacted by any of these, call (02) 9199 7480 immediately and we'll have one of our 24 hour emergency electricians attend the scene.
At Gordon's Powers, we service all over Sydney including the Eastern suburbs, Inner-West, North Shore, Sutherland Shire and Western suburbs. It is important to recognise the danger that a fallen line presents to us. Always steer clear and notify an emergency Level 2 electrician without delay.
Why has the government backflipped with its decision to introduce mandatory underground electrical systems in newly-established areas? Basically, everything that's wrong with an overhead service cable is right with an underground electrical system. Not only does an underground electrical system present a more attractive neighborhood, it also eliminates the risk of fatality and injury resulting from hazards such as motor vehicle accidents, landscaping, severe storm, and wildlife.
At Gordon's Powers, our Level 2 Electricians have ample experience with the installation of single and three-phase underground electrical systems. Our service is backed by a lifetime guarantee and our technical know-how makes us a favorite amongst locals. If you have any queries about your existing underground electrical system or wish to enquire about an installation, have a no-obligation chat to a Level 2 electrician today.
An underground electrical system also has a downside. Though slightly more expensive to install, an underground electrical system has a shorter lifespan than an overhead service cable. As mentioned earlier, it's not always the most feasible choice for your area. If the footpaths are congested by other utilities and telecommunication companies, the alternative is drilling into the road which can be highly inconvenient and costly. Rocky, mountainous or wet terrain also fare better with overhead service cables as they're unfeasible to dig or installing it.
If you happen to encounter issues with your underground electrical system, a Level 2 electrician will need to identify the cause. Sometimes faults can be difficult to locate due to their covert nature, and to fix it, often requires digging. For this reason, repairs to an underground electrical system are much more time-consuming. Extreme caution must be taken so leave it to our experienced Level 2 electricians to restore your power.
Leave it to us.
Do you think you know which of the two is best for you?
Per stringent standards and practices, all these factors are assessed by our Level 2 Electricians to determine the right solution for your property and budget.
As a result, you can rest assured that your job will be dealt with in one visit. The Best Emergency Electricians Sydney
Trying to find a Gordon's Powers Level 2 Electrical contractor that works with us? Find one in our electrician near me locator around NSW.
Check out
Our Level 2 Services