OUR REVIEWS
What Our Customers Say
A Sparky's Take – Help, I've just been issued an Electrical Defect Notice!
Don't worry, you're not alone. Too often we hear from panicked clients in need of an urgent repair to their electrical installation. We promise, your electricity won't get shut off – well, that's if you call upon one of our Level 2 electrical contractors to save the day.
In fact, the dreaded electrical defect notice is the primary reason we established our 24-hour emergency electrician division. Gordon's Powers is your go-to for all things electrical. There's no diagnosis we've not remedied and we're proud to have restored power to all parts of Sydney. Our services extend to the Eastern suburbs, Inner-West, North Shore, Sutherland Shire and Western suburbs.
If you've recently received an electrical defect notice from Ausgrid or Endeavour Energy or wish to take pre-emptive measures, read on to discover the five W's (+ one H) that will keep you powering on.
Who regulates and issues electrical defect notices in NSW?
In NSW, electrical defect notices are issued by two key electricity distributors: Ausgrid and Endeavour Energy. Ausgrid distributes to the Sydney Metropolitan, Central Coast and Hunter Valley, while Endeavour Energy distributes to Sydney's Greater West, Blue Mountains, Southern Highlands, Illawarra and the South Coast.
Officers employed by the two entities perform routine inspections across their electricity networks, including to both residential and commercial properties. They will issue any electrical defect notices via mail which usually will require a Level 2 ASP (authorised service provider) electrician to restore the matter at hand, back to compliance.
What is an electrical defect notice?
An electrical defect notice is issued if your electrical set-up and connection do not comply with minimum safety standards. These standards are dictated by several laws and regulations including the NSW Electricity Supply Act 1995, the Electricity (Consumer Safety) Regulation 2006, Service & Installation Rules of NSW and the electricity distributor's own network standards. They are enforced in the interest of public safety and involve high-risk electrical infringements, most often with installations that are only accessible by a Level 2 electrician.
Where does my responsibility lie?
It is important to note, that you, as a property owner, are solely responsible for keeping your electrical compliance in check, including maintaining safety clearances over driveways, your point of attachment and structures like clotheslines, pools or TV antennae. Ausgrid and Endeavour Energy only manage the street's electricity network. If you're renting the property, immediately forward the notice onto the property owner, landlord or property manager.
Remember, repairs are time bound. If sufficient notice isn't provided, you risk having your electricity disconnected. Keep on top of the matter until it is resolved. If for whatever reason you're short on time, you can appeal to the distributor for an extension or simply contact one of our 24-hour emergency electrician.
When can I expect to be audited or to perform repairs by?
Audits are performed regularly and with no notice given. Once an electrical defect notice is issued, you've got a finite number of days to resolve the infringement. This number varies depending on your electricity distributor – Endeavour Energy allows 30 days, whereas Ausgrid only allows 21. While this is the norm, there are exceptional circumstances where you won't have the luxury of time.
If the hazard poses an immediate safety risk to the public, urgent attention may be required. Fortunately, our 24 hours emergency electricians are available on-call for jobs that require a sharp turnaround. They are Level 2 electricians which means they are qualified to deal with any sort of electrical hazard that's outside the scope of a general electrician. Call us on (02) 9199 7480 or book an appointment online.
Why are electrical defect notices issued?
There are a number of reasons why your electrical installation may not comply with safety standards. Electrical defect notices can be issued for faulty wiring, modifications to the original connection, or unkept vegetation that presents a risk of interference with electrical wires.
Other issues that are commonly defected include rusty or broken brackets, loose connection boxes, rotten fascia boards, outdated switchboards, UV-damaged mains, point of attachment issues and low-running overhead service cables. If the defect is a result of poor workmanship from your previous electrician, we would encourage you to engage one of our Level 2 ASP electricians to ensure a quality assessment and repair is performed. Our work is backed by a lifetime guarantee so it is highly unlikely you'll be targeted again for something that's not a result of general wear and tear or unqualified human intervention.
Overhead service cables are particularly vulnerable to mechanical damage from environmental factors. Destructive winds, debris in the air and heavy rainfall can cause your electrical set-up to become non-compliant. If you suspect something's wrong or prefer to be safe than sorry, we're happy to provide a 24-hour emergency electrician to inspect the aftermath.
Distributor inspections are ongoing and help to ensure the safety of property owners, local community and those with a stake in your property's electricity, like your distributor or even one of us!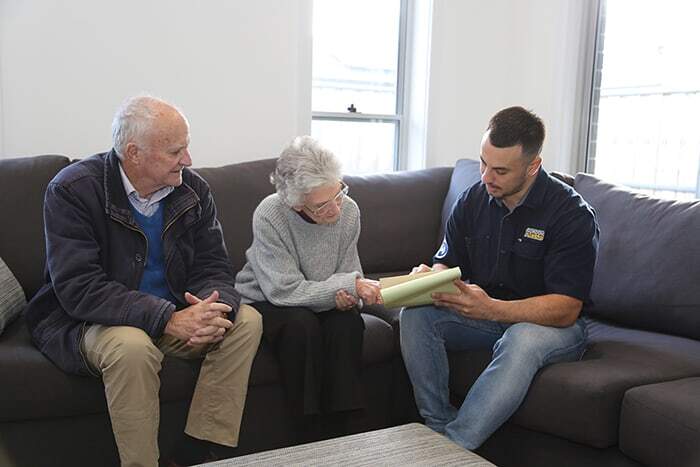 How can I avoid receiving an electrical defect notice?
The minimum safety standards provide the groundwork you need to avoid being stung. These can be found on legislative government websites. We've summarised the key findings and considerations in layman's terms below.
When meeting required safety clearances, here are some things to be mindful of:
Single storey building being knocked down to make way for a larger or multi-storey building.
Rezoning of land for multi-storey construction like apartments or town houses.
Elevating the ground directly beneath overhead service cables.
Installation of large antennae or clotheslines. A two-meter clearance from aerial consumer mains is required from antennae and three metres for clotheslines.
Relocation of driveway or building of driveway near power poles or light posts. There must be a minimum of one metre between the driveway and the structure. Industrial driveways require at least one and a half metres.
Use of a crane near overhead power lines and placement of a flag pole. Be weary of both overhead service cables and underground electrical systems when choosing an appropriate position.
Construction of a pool, especially above-ground. Absolutely no electrical installations are permitted above a pool.
Planting of new trees and plants. For existing vegetation, regular pruning is key, provided a safe distance is kept from electrical items.
Property maintenance and repairs performed near point of attachment. A distance of one metre should be kept at all times.
Excavation near underground electrical systems, private power poles and street's electricity network. Consult Dial Before You Dig prior to any works.
Minimum safety standards are not limited to safety clearances. If you've had recent alterations to your electricity connection or believe your wiring may be faulty, you should reach out to a Level 2 electrician to have the situation inspected. Changes that are made may be non-compliant and usually, only an ASP level 2 electrician is qualified to resolve these sorts of electrical defects.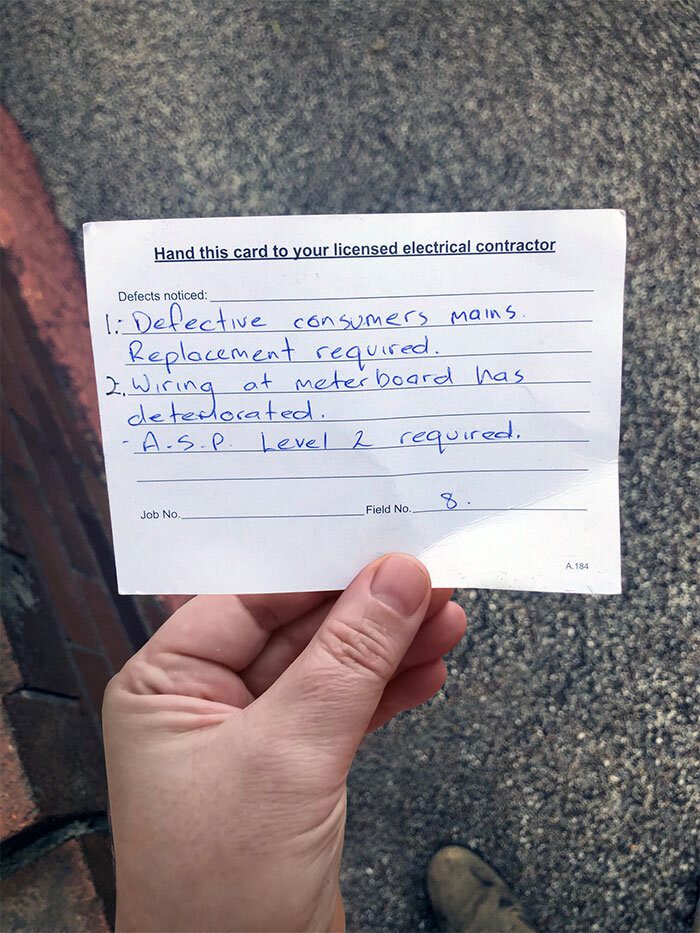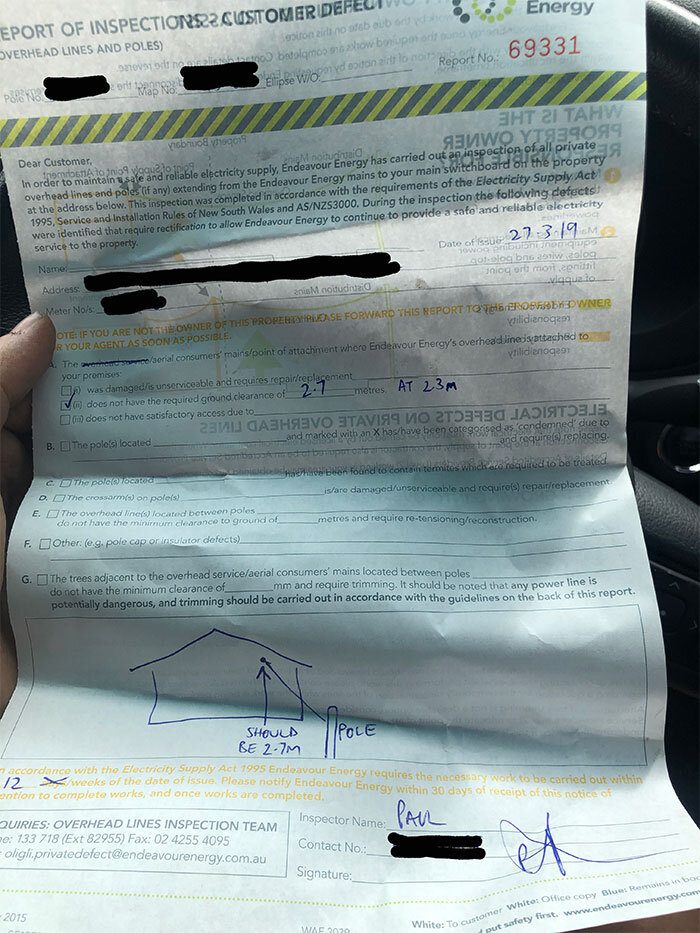 Unless you are a Level 2 electrician, never take the matter into your own hands. The strict governance over the electrical industry is in place to protect all civilians. Gordon Power's Level 2 authorised service provider contractors and 24 hour emergency electricians can handle any job, big or small. We service the whole of the Sydney Metropolitan and provide quality guaranteed work with fast turnaround times and competitive prices. Contact us today!
Check out
Our Level 2 Services