OUR REVIEWS
What Our Customers Say
Consumer Mains
What is a consumer main?
The installation of every switchboard is required to have supply cables brought into it. These supply cables are referred to as consumer mains. Consumer mains play an important role of an electrical installation. Without them, there would be no power supply to the property or switchboard.
Existing consumer mains are required to be upgraded for reasons such as defective consumer mains (deteriorated or low insulation resistance) defective consumer mains are usually issued with an electrical defect notice by the authority network such as Ausgrid or Endeavour Energy.
Who can install consumer main systems?
Consumer mains cabling system can only be installed by a licensed electrician or an ASP (Authorised Service Provider) level 2 electrician. An ordinary licensed electrician is not permitted to connect the consumer mains to the supply network. An electrician is limited to prepare the work to be carried out by an authorised electrician who holds the necessary qualifications and accreditation (a level 2 electrician).
What is the common reason for a sudden power outage?
A lot of the time when being called out to identify an issue in relations to power issues, consumer mains are usually defective or overworked. Nowadays, we tend to consume more power than we used to in the past.
If your existing consumer mains have been disconnected or you experience a sudden loss of power it's usually caused by overly worked cables which were not able to handle the extra stress we put on them now. All the extra appliances that we use all adds up and puts a strain on the existing mains that were not created with the appropriate capacity.
How are consumer mains installed?
So basically, consumer mains are usually run in two different methods. One is through the roof cavity from the Point of Attachment (PoA) where the overhead mains cable attaches to the house from the network or an underground system where usually a private pole is located on your property boundary or by means of a private pillar box (green box) or even a street light located directly in front of your home.
The dangers of outdated consumer mains
Existing consumer mains can range from 6mm-16mm on most domestic applications. In commercial or multi dwellings (unit block, apartments etc) they can typically range from 16mm and upwards.
The size of a consumer main is governed by the maximum load, once the maximum load has been established the cable is then selected by the current carrying capacity for that cable. Eg. A 6mm cable is rated at 40amps, 10mm cable is rated at 50amps and 16mm cable is rated at 63amps. Common issues our level 2 electricians see is that a 6mm cable is used for a consumer main and the obvious problem is the cable size and also the cable type.
A 6mm cable would not be adequate enough to withhold the stresses of today's electrical appliances. Most households these days have a least a few televisions, two fridges, a washing machine, dryers, a microwave, dishwashers, electric cooking/heating devices, hot water, pool equipment, wall oven, a kettle, a toaster, etc and numerous amounts of lights across the household.
Our estimate of how much electricity would be produced throughout all these different items is as follow:
Televisions 4 amps
Fridges 3 amps
Washing machine 3 amps
Dryer 2 amps
Microwave 5 amps
Dishwasher 4 amps
Electric cooking 10-15 amps
Hot water 15 amps
Pool 3 amps
Kettle 8 amps
Toaster 5 amps
Lighting 2-3 amps
The total amount of power produced at any one given time would easily exceed 40 amps. This then potentially renders your consumer main unsafe or a potential fire hazard if the cables are overloaded. The danger heightens greatly if your consumer main is running on older or outdated cabling.
In addition, if you live in a house that built more than 45 years ago then you may have wiring that could potentially be dangerous and may require your attention for the safety and reliability of an electrical power supply.
VIR (Vulcanised Indian Rubber) cables
Many of the older houses were originally wired in VIR (Vulcanised Indian Rubber) cable which had a limited lifespan and was often the causes of house fires, electrical short circuits, and even electrocution due to its lost integrity. The cables may have deteriorated which leads to insulation breaking away from the conductors, especially if disturbed. This VIR cable is usually installed within a split steel conduit. The steel conduit poses a higher danger as it is electrically conductive and can become live in the event a cable is worn through and makes contact on the conduit.
If you have this type of wiring in your house, do not enter the roof space unless the power to your house has been completely turned off. You can usually see if this cable is installed in your home by identifying it within your main house switchboard area. Steel conduits were usually run from the switchboard area to the destination of the wiring system through the roof space or even under house space.
Call an electrician and get it replaced as soon as possible to avoid encountering problems later. Gordon's Powers work with VIR cabling every day and must only be handled by a suitably qualified person, remember it's not usually a matter of "if" it will fail, it's "when".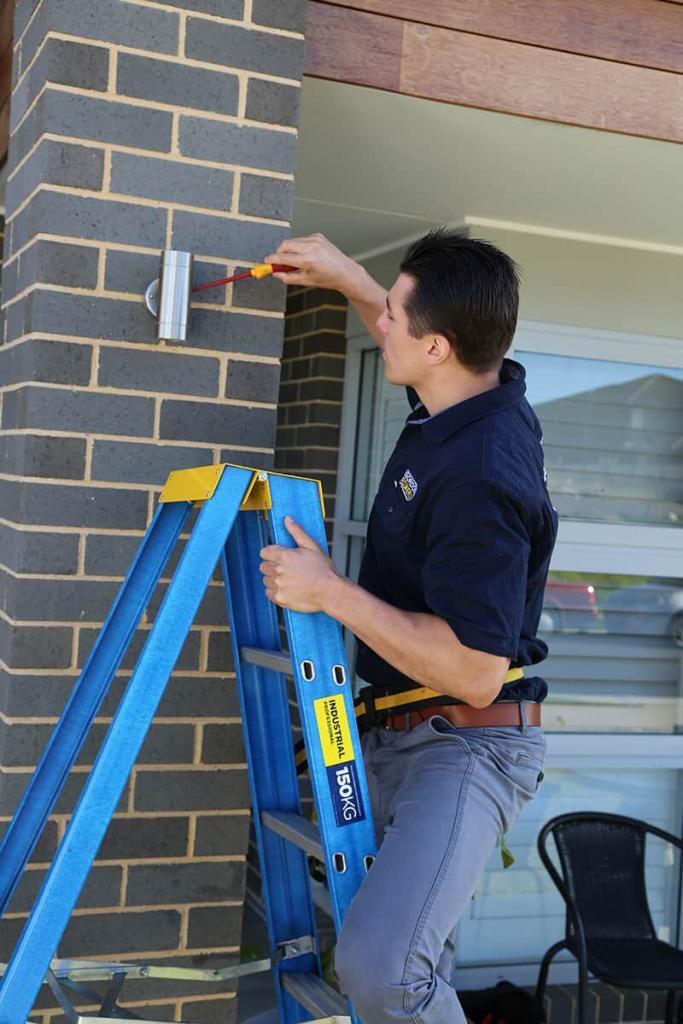 XLPE cabling: the domestic modern standard
These days when completing a switchboard upgrade or consumer mains upgrade in a domestic environment, the consumer mains installed is a minimum size of 16mm and run in XLPE cable, (cross-linked polyethylene).
The mechanical properties of the XLPE are superior to many other insulations, offering greater tensile strength, elongation and impact resistance. The addition of carbon black can be used to further enhance hot deformation and cut through resistance. The XLPE insulation will not melt, and it has increased flow resistance and improved ageing characteristics.
At Gordon's Powers, we work with XLPE every day. It is essentially our standard of choice because of its durability and with its reliability virtually second to none. We can easily see why regulators have amended laws to make this cable the minimum material type for consumer main installations. The XLPE cable can come in a single core cable and even in a bundled cable. Bundles can vary depending on the installation type and whether a three phase or single phase system is required.
Also, it is important to note that XLPE can be used in the roof space and in underground conduit systems making it highly versatile.
Call Gordon's Powers today on 02 9199 7480
If you require any installations or repairs for your consumer main, call Gordon's Powers today. We will promptly dispatch a level 2 electrician to your site. For any general enquiries about consumer mains, please call us, our friendly Sydney electricians are always happy to have a chat about how we're able to help you.
Our certified level 2 electrical contractors have decades of experience and knowledge in specialised electrical work. We work efficiently and swiftly so that we can install and connect your consumer mains all in one visit, making it cost-effective and saving you money! Instead of multiple visits like other companies, we do everything in one visit so that you don't have to pay excessive callout fees.
As our professional level 2 electrical contractors in Sydney, we know the level of service and installation required for electrical wiring so that it is safe and complies with the rules and regulations in New South Wales.
Check out
Our Level 2 Services