Level 2 Electrician Five Dock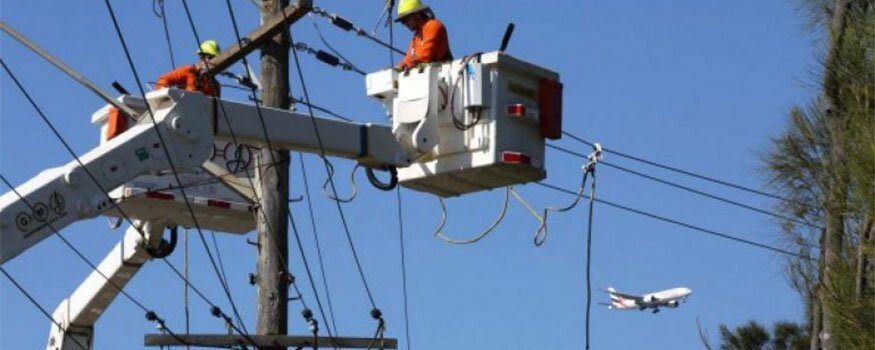 Entrust your consumer mains repairs only to certified Level 2 Electrician Five Dock. In times of electrical issues in your mains, no need to worry. Gordon's Powers got your back! We have a team of expert and experienced Level 2 Electrician Five Dock. We are licensed to work on Ausgrid and Endeavor Energy. Rest assured that you are getting certified services. Our over than 10 years of being in the business proved that we stayed in the business because of our reliable and excellent performance. We pride ourselves with the good feedback we get from our valued customers.
Gordon's Powers expert Level 2 Electrician Five Dock offers all services for consumer mains such as the following:
Service Lines Installation
Our team is highly skilled in installing service lines. We install the types of service lines, overhead service line and underground service line depending on what our clients prefer. We also help them decide by laying all important details on the service lines.
UV Damage Consumer Mains
Overhead service lines are exposed to the damaging UV rays. Low quality and old cables are prone to damage. If your cables fall in either of the two, you may expect a defect notice from Ausgrid or Endeavor Energy. Our team can perform the best repair or replacement using high-quality materials and durable cables.
Point of Attachment
For property owners who are new in Five Dock, Gordon's Powers team can offer an array of services including disconnection of your main network from the mains and reconnect them to your new property. We can also do quick relocation of your service connections during renovations. Also, of your current placement can't support the point of attachment, our team can do high-quality replacement/relocation.
Maintenance
Local homeowners often disregard electrical dangers until they become a full-blown problem. However, if we continue to ignore these issues, there is more risk of getting accidents and other electrical problems. Let us prevent these from happening by having your electrical system particularly the consumer mains to be checked at least once a year. We will handle all types of electrical problem in your service lines. We provide immediate response to relieve you from worry and provide you with the convenience you deserve.
Gordon's Powers can organise the following work for you, no hassle required:
Fuse equipment repair and replacement
UV Damage defective notice repairs
Installation of underground consumers mains both single and three phase systems 24 hrs
Off-peak relay installation and associated metering equipment
Repair of single and three phase consumers mains 24hrs
Point of Attachment relocated or repairs
Electricity system capacity extension and upgrades
Electricity metering equipment installation
Connection of your mains service lines to the local electricity network
Disconnection of your mains service lines from the network for minor repairs
Permanent disconnection of your mains service lines for building demolition
Private power pole and underground pillar installation, replacement and removal
Upgrade your existing service from single to three phase or just increase the supply capacity for extra load requirements
Connect your mains service lines to the network and energise your installation.
Emergency Electrician Five Docks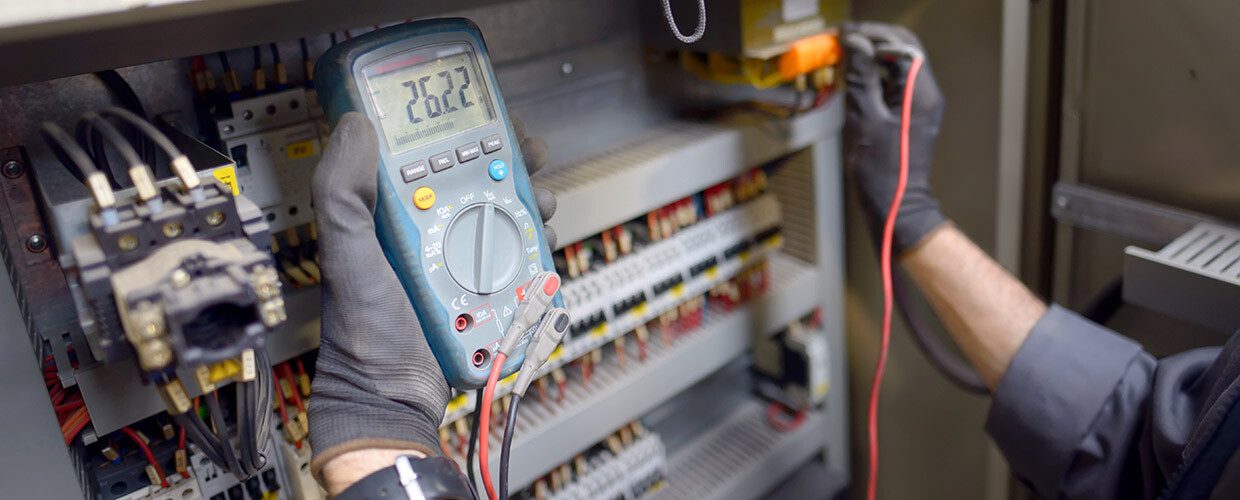 Having an electrical issue at home needs a prompt action from fast and reliable Emergency Electrician Five Dock. Good news! You have Gordon's Powers who can deal with all types of electrical emergency fast and effectively. We have a team of professional and skilled electrician who have successfully handled electrical emergencies. Being in the business for more than 10 years, we are proud to have helped homeowners and property owners.
No more long hours of waiting for your electrical emergency to be attended to. Gordon's Powers is available 24/7 to help you when faced in electrical emergencies such as follows:
Overloading – This is one common electrical emergency. That needs immediate action. Overloading causes tripped switches or blown fuses. Have your Gordon's Powers team check the issue and we will perform the best and permanent solution to the problem. With thorough inspection, we will One thing everyone has to keep in mind is to prevent the problem itself. Never use high powered appliances simultaneously in one circuit.
Old Wirings – Old and unreliable wirings won't be able to handle electric current properly. This may cause the wires to become hot and cause a fire. Therefore, old wirings need to be replaced as soon as possible. Our team has the highest quality of materials so rest assured that are getting the best wires for your electrical system.
No Power – Having no power normally happens if this is caused by a scheduled power outage by your utility company. However, an unplanned power outage isolated to your property is an electrical emergency. There may be problems with the consumer mains power supply and connection. Possible disconnected cables and switchboard problems also caused the power outage. To identify the root cause of the issue, have your local Emergency Electrician Five Dock to attend to the problem as soon as possible.
Burnt Smell – Fire may begin from any material. However, if you notice burning rubber smell that is invisible to the eye, this may indicate an overheating or burning electrical wiring located behind walls, under wooden floors, or on the ceilings. If your suspicion is correct, stay alert and calm. Shut down the entire electrical system with your switchboard. This helps prevent the problem from progressing and damaging other electrical appliances. Have your fire extinguisher ready in case a fire will be in sight. Have your Gordon's Powers emergency electrician Five Dock to rescue you as soon as possible. We will check your entire system lto find the damages.
Smoke Alarm and Security Alarm Malfunction – These 2 alarms work differently but are very important devices used to increase safety for your family and property. Any issue can be put safety at risk. If you suspect a possible problem with smoke alarms such as squeaking sound, no sound, or false alarm, have it checked immediately. This also applies to security alarms. There may be need of bigger repair or parts replacement to bring the units to work again.
There is no small or big job for us. We can attend to all types electrical emergency whether it is for your home, business, or industrial structure. Our 24/7 emergency electrician Five Dock will promptly give solution to your electrical emergencies.
Smoke Alarm Installation Five Dock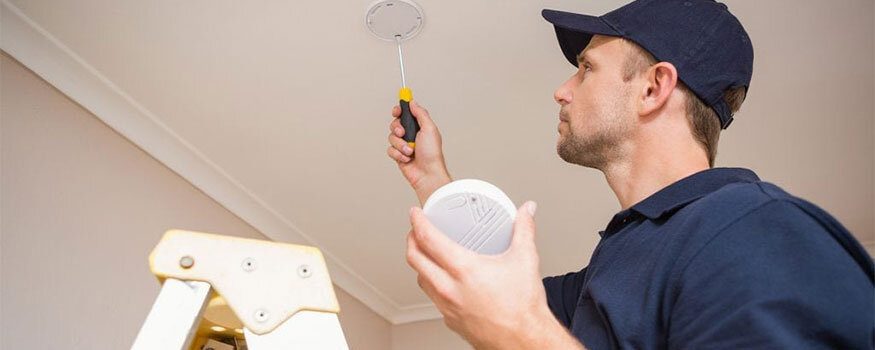 Do you need a smoke alarm replacement? No worries. Gordon's Powers Smoke Alarm Installation Five Dock will handle all your smoke alarm replacement needs. Our aim is to provide fire safety to everyone on Five Dock with our reliable and prompt smoke alarm services. We all know that fire caused many deaths and destruction of properties. As a family business, we do know the type of safety you will need for your family. That is why, we are always dedicated in providing all types of smoke alarm services for your safety.
When do I need to replace my alarm?
Some property owners may have smoke alarms that has been installed for 5 years or more. They may look fine, however, you can expect a number of malfunction. Old smoke alarms are recommended to be replaced with newer smoke alarms that can last up to 7 years. This ensures your fire safety and can help you save from repair costs. For replacements, rest assured that we use only the highest quality of smoke alarms that are guaranteed to work perfectly.
Gordon's Powers has the highest knowledge in smoke alarms. We can help you decide on what type of smoke alarm you need. Here are the following types of smoke alarms:
Photoelectric Smoke Alarm – This type of smoke alarm responds best to slow smouldering fires. It operates with a light source and a photoelectric sensor. Alarm is triggered when the smoke enters an optical chamber and it crosses the light beam path. Once it crosses the path, some light are scattered by smoke particles and directs it to the sensor.
Ionization Smoke Alarm – This works best in detecting raging fires. It runs with a radioactive material that passes through an ionization chamber. It is an air-filled space in between 2 electrodes. The space permits constant current wherein smoke particles are being absorbed. This process reduces the ionization and interrupts the current that causes the alarm to set off.
Combination Smoke Alarm – This smoke alarm has the features of both ionization and photoelectric smoke alarm. Being able to detect all types of smoke or fire, it is highly in demand for many property owners.
These smoke alarms can be hardwired or wireless depending on our clients preference. However, hardwired smoke alarms are more dependable in stability. Being connected to the electricity and having a back-up battery power, with or without the electricity, it is guaranteed to work for your safety. This also works best for interconnected smoke alarms.
Our team is also expert and experienced in other types of smoke alarm services such repairs and maintenance. If your smoke alarm are showing signs of malfunction, our team can check it immediately. We will perform an intensive check-up to identify the problem and perform the necessary repair to get your smoke alarms working perfectly again. To prevent potential damage and error in your smoke alarms, we can also help maintain it with annual checkup. With all these services, rest assured that you'll get a comfortable sleep not worrying of being at risk of fire.
Switchboard/Fusebox Repairs and Upgrades Five Dock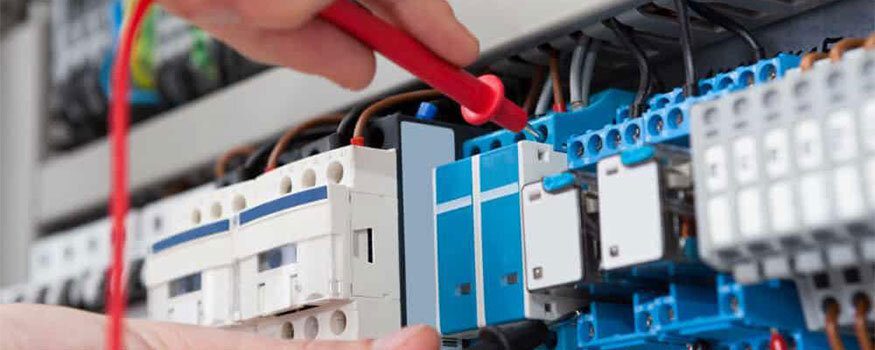 Do you want to add garden lighting? Gordon's Powers Switchboard/Fusebox Repairs and Upgrades Five Dock can help you with the installation. But first, we will have to check if your current switchboard can support additional load. Garden lighting can have many light fixtures installed especially when you have a big garden with a landscape design. It may require its own circuit panel so it won't share its load with other appliances. Another thing is that it will be easier to troubleshoot and keep your other electricals safe because your garden lighting uses its own circuit.
There are many times you will definitely need an assistance of a Switchboard/Fusebox Repairs and Upgrades Five Dock service. This is a given fact if you are not into electrical stuff but can get a professional help whenever you need one. Gordon's Powers can do beautiful things for your electrical system. Our expert electricians have delivered a number of reliable and perfectly working switchboards for residential and commercial properties in Five Dock. We have changed, repaired, swapped, installed and maintained most switchboards and fuseboxes in the suburb and continue to cater our outstanding service to more customers. All our reviews tell how satisfied our customers are and how they are impressed with the way we handle their switchboard issues and concerns.
Gordon's Powers can work on flexible hours. Our certified electricians are very professional and know that in our job, customers come first. We do work even when everyone is partying on a holiday. We also do not find any problem working late at night when you face a switchboard emergency because we know that when electricity fails, what's next are a domino of electrical mishaps if not fixed right away. You can catch our attention by our easy appointment system and our lines are also kept open for you. When it comes to readiness, our van is equipped with advanced switchboard electrical tools, equipment and materials. We are your friendly and honest electricians that always find time to help you with any switchboard works.
If your fuse board looks like a mess with all the wires running here and there, just get Gordon's Powers Switchboard/Fusebox Repairs and Upgrades Five Dock to sort out and regroup your circuit board. We may even replace your switchboard or fusebox if our evaluation result confirms that your switchboard is no longer sufficient to hold your electrical loads. Our Five Dock electricians will also help you with rewiring your electricals and tidy up your boards with proper labels on circuits that tells which appliances are connected to it and all.
If you are going to take care of your switchboard yourself, there is a little percentage that you will be successful if you are not a licensed electrician and will just rely on DIY guides. Hiring a quality Switchboard/Fusebox Repairs and Upgrades Five Dock service does not have to be expensive. Gordon's Powers are one of the best switchboard masters in Sydney and we are your local Five Dock electricians that cares. All our rates are reasonable and comes with great quality you can't find in any!
Hot Water Heater Repairs and Installations Five Dock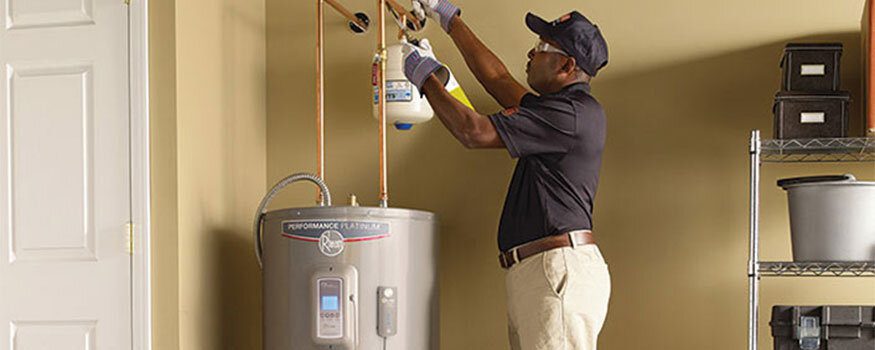 Rely only to an efficient and honest Hot Water Heater Repairs Installation Five Dock provided by the best team of electricians from Gordon's Powers. Remember that the water heater is one of the most important plumbing appliance that every home needs. Therefore, any problems in your hot water heater should be addressed immediately. Gordon's Powers assures you that all types of hot water heater issues will be taken care of with care expertly.
Every family deserves the comfort of having hot water to use anytime especially for warm baths. Having interrupted usage can cause inconvenience. And as a family run business, we understand how it feels that is why we can rescue you on such issues in a short time. Have our attention upon noticing the following are signs of hot water heater problems:
No hot water – If there is no hot water is produced in your faucets after turning on your hot water heater, you can check the power source, electrical or pipelines, and the thermostat. However, if you don't know what to do or check first, it is best to leave the matter to Gordon's Powers experts. We will conduct an intensive checkup of the whole hot water heating system. Once the problem is ruled out, we will discuss the issue and needed repair.
Water too hot to touch – Water that is too hot coming out from the faucet can cause harm and burns to someone who gets contact to it. In this case, there must be something wrong with the thermostat which need immediate checking. The thermostat may be busted which needs repair or replacement.
Broken pipelines – Gas hot water heaters normally has pipelines where gas passes through to the burner. If there is any broken pipeline, this can cause leak and worse, fire. If you notice a gas smell, shut down your hot water heater immediately and have your local experts to check the problem immediately. Gordon's Powers team will diligently find the leak and perform repair to have it covered or we can replace the whole pipeline.
Gordon's Powers has the highest knowledge in hot water heaters. We have installed different types of hot water heaters over the years such as Gas Hot Water Heater, Demand-type Hot Water Heater, Electric Storage Hot Water Heater, Hybrid Hot Water Heater, and Solar Hot Water Heater. We can help you decide on what to choose according to your requirements and hot water demand.
The most common hot water heater that most property owners choose is the demand type hot water heater. This is an energy saving unit because electricity runs only when hot water is needed. It doesn't need a standby energy compared to storage hot water heaters. However, you go for an energy saving gas storage hot water heater. You can cut off from your monthly bills but this requires delicate installation and maintenance.
With Gordon's Powers around, all your hot water heater needs are taken care of. We got your repairs, installations, relocations, and maintenance covered.