Level 2 Electrician Kogarah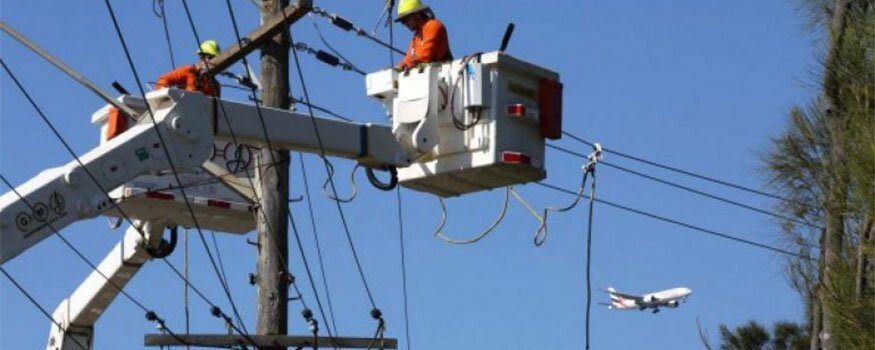 If you are in need of a professional Level 2 Electrician Kogarah to work on your power lines and get your power back up as soon as possible? In Kogarah, you have Gordon's Powers Level 2 Electrician. Our team is prompt to take action on any Level 2 electrical works that you need. Gordon's Powers dedicated Level 2 electricians can attend to your electrical needs whenever and wherever needed in Kogarah. We are authorised to perform level 2 works by Ausgrid and Endeavor Energy.
Gordon's Powers valued customers remained loyal by getting our expert services. This is an obvious sign that our services met and even exceeded their satisfaction. For being in the business for more than 10 years, we grew and improved more of our skills so rest assured that you are getting our services at best.
We are highly dependable in providing services for your:
Overhead and Underground Service Lines – Our team installs top quality service lines for your home and business may it be overhead or underground. Our excellent craftsmanship and high-quality materials and equipment, all new installations, repairs, and replacements will be of top quality.
UV Damage Consumer Mains Repair – If you received a UV defect notice on your cable lines
from Endeavour Energy or Ausgrid, immediate rectification is needed from an expert and skilled Level 2 Electrician Kogarah. We will check the UV damaged cables and we can perform any necessary repairs. We can add insulation to exposed conductors and save the entire cable line or we can replace it if damages are no longer repairable.
Maintenance
Electrical dangers are often disregarded and unrecognised by many home and business owners. However, these matters should be paid high attention to avoid accidents. To avoid such situations, connections need to be checked for at least once a year. This serves as a preventive measure to any electrical problem. There is no small or big electrical damage that our team can't attend. We will provide an immediate response to relieve you from worry.
Gordon's Powers can organise the following work for you, no hassle required:
Fuse equipment repair and replacement
UV Damage defective notice repairs
Installation of underground consumers mains both single and three phase systems 24 hrs
Off-peak relay installation and associated metering equipment
Repair of single and three phase consumers mains 24hrs
Point of Attachment relocated or repairs
Electricity system capacity extension and upgrades
Electricity metering equipment installation
Connection of your mains service lines to the local electricity network
Disconnection of your mains service lines from the network for minor repairs
Permanent disconnection of your mains service lines for building demolition
Private power pole and underground pillar installation, replacement and removal
Upgrade your existing service from single to three phase or just increase the supply capacity for extra load requirements
Connect your mains service lines to the network and energise your installation.
Emergency Electrician Kogarah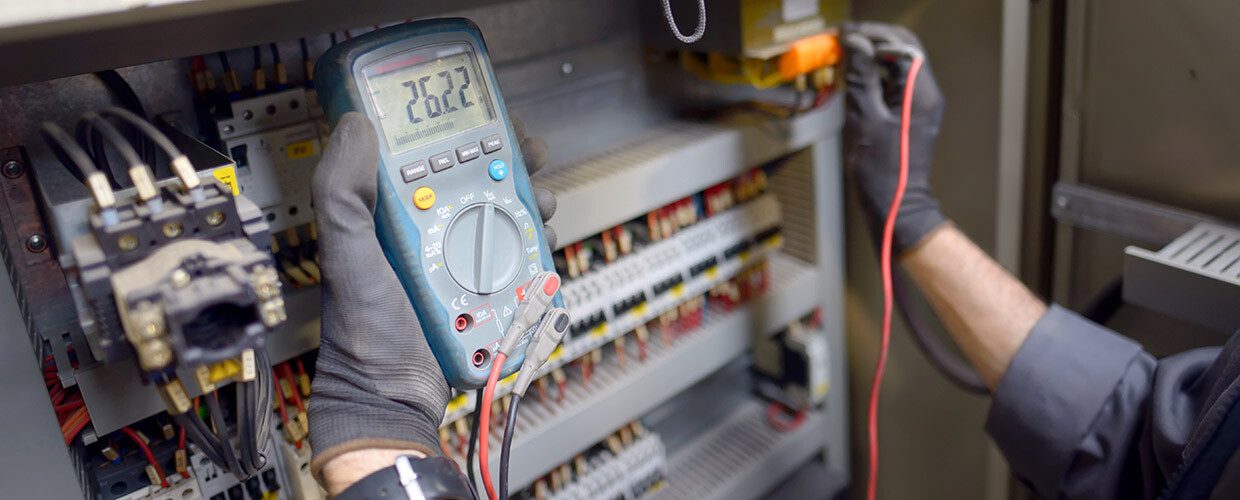 If you notice overheating electrical lines, have a reliable team of emergency electrician Kogarah to help you identify the root cause of the problem. This issue typically occurs when using many appliances at the same time. In this case, only Gordon's Powers team of professional emergency electricians Kogarah can check your electrical circuits to avoid a small issue become a full blown problem. With over than 10 years of expertise in performing emergency repairs, we rescued home and business owners from electrical dangers.
An electrical emergency can lead to a life and death situation if not being checked and fixed. Oftentimes, these few and little signs of electrical issues can progress. Watch out for common signs of potential electrical emergency such as follows:
Frequent Power Outage – If you are experiencing frequent power outage in your home and business which only happens in your premise, there is a possible problem in your electrical supply. Problems with your panel boards may have also caused the power outage. We will conduct fault testing on your mains lines. Any signs of high power surge and other problem will be taken care of. If such issue happens, immediately call your local Gordon's Powers emergency electrician Kogarah to know what's causing the problem
Power Lines and Poles Struck by Lightning – Storms are sometimes accompanied by lightning that can be very frightening. This does not only cause fear but danger as well if it strikes to electrical lines. Electrical poles are commonly hit by lightning and once it does, it can damage your mains service lines and appliances connected. If you suspect that the a power outage is caused by lightning, never hesitate to have an emergency electrician respond to the problem immediately.
Frequently Tripping Switches and Blowing Fuses – Switches trip and fuses blow once an electrical problem occurs in your electrical system. This is your electrical system's defense mechanism from overall damage. This normally happens. However, if it occurs most of the time, it can cause greater damage to your system and can even out your life and property at risk of fire and other fatal situations. Make sure that your switchboxes or fusebox can handle your electrical demand. Check the number of appliances being used at the same time. If problem still occurs, have the problem checked by prompt and professional emergency electicians from Gordon's Powers.
Electrical Smells – Electrical issues such as overheating, short circuit, and overloading can cause tripped switches and blown fuses. When these occur, it is possible that wires or other component produce smoke depending on the severity of the problem. Wires may be hidden and potential fire may not be noticed. However, noticing a burning rubber smell is a trigger sign you shouldn't ignore. Have an emergency electrician rescue you from risk of fire by having the issue attended to immediately.
You can depend on your Gordon's Powers emergency electrician Kogarah to attend to you promptly in times of electrical problems. With our 24/7 availability, you don't have to wait until morning for issues to get fixed. We are highly available to provide rescue from electrical emergencies.
Smoke Alarm Installation Kogarah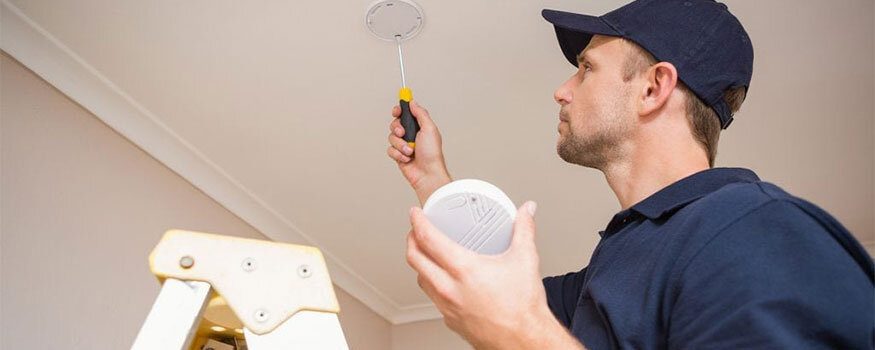 Prevent fire from putting your life and property at risk with the help of a reliable smoke alarm installation Kogarah performed by the expert and professional team electricians from Gordon's Powers. Every property owner should be responsible in increasing fire safety. This will prevent damage and even death. Fire is destructive and deadly. It can happen anytime. Therefore, effective and reliable smoke alarm installation Kogarah has been one of our goal. For over than 10 years of being in the business, our team has protected home and business owners from potential fire. We gained great feedback from our valued customers and this motivated us even more to excel our expertise in smoke alarm installation.
What can you expect from Gordon's Powers Smoke Alarm Installation Kogarah?
Complete Smoke Alarm Services
Fire can easily be prevented if you have the right type of smoke alarms installed in your property. It is important that you have the right knowledge in choosing. Great thing Gordon's Powers can do all smoke alarm services for you such as the following:

Repairs – Our team responds fast and effectively to any smoke alarm problems. Malfunctioning smoke alarm should always be repaired as soon as possible and our team will perform the necessary repairs guaranteed to get the smoke alarm to work as good as new.
Maintenance – Smoke alarms should always be in good working condition at all times because fire may happen anytime. To make sure they are functioning, our team can perform a maintenance check and testing. This helps identify problems ahead of time.
Fast and reliable team of electricians
We have the fastest team of electricians to respond to all your smoke alarm needs. We also provide same-day new smoke alarm installation. Inspection of your property, estimation, and testing are all done in 1 day to make sure that you'll have your smoke alarm working before bedtime. You can also rely on us for after hour services for emergency repairs needed for your smoke alarms. We make sure that any issue is taken care of successfully for your convenience. We always aim to provide safety so we are highly available to rescue you from any smoke alarm problems.
High-quality materials and equipment
Our expert smoke alarm services are also made excellent by using high-quality materials and equipment. Even so, we offer top class repairs and installations in affordable price. This is an assurance that you are getting only the best from Gordon's Powers.
Gordon's Powers has the highest knowledge in smoke alarm installation and smoke alarm units. We service small to big properties and even plan smoke alarm systems. Property owners can choose from different types of smoke alarms. First is the Photoelectric Smoke Alarm that can detect raging fires. Second is the Ionized Smoke Alarm that works best in detecting slow smouldering fires. Next is the Combination Smoke Alarm which has the combined properties of ionized and photoelectric smoke alarm. Lastly, the Interconnected Smoke Alarm System which is preferred for use to large properties with multiple rooms or divisions.
Switchboard/Fusebox Repairs Upgrades Kogarah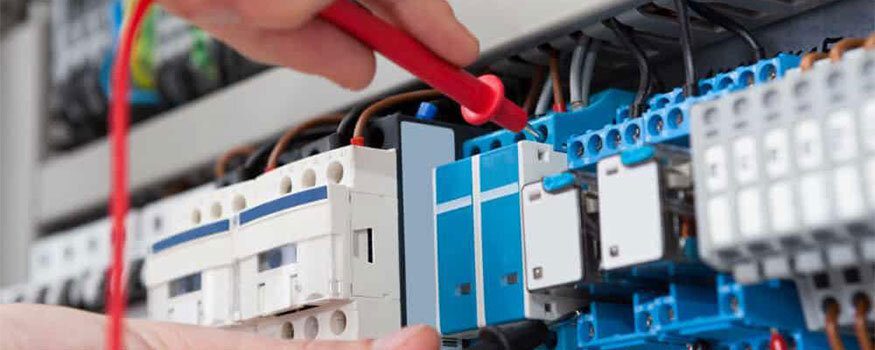 Power outage and fusebox problems can cause inconvenience to any business operations so you need a reliable switchboard/fusebox repairs upgrades Kogarah to help provide solution to these issues. If a power outage is not caused by your electric provider and occurs only on your property structure, this simply means a problem with switchboards. To know best the root cause of the problem, have it responded to by your local expert emergency electricians from Gordon's Powers.
As certified and expert professionals in the field, rest assured that all types of electrical emergency will have the best solution. As a business running successfully for over than 10 years, you will get the satisfaction and convenience you need. No need to worry about electrical emergencies on your own or have a hard time looking for someone who is effective on the job.
Dealing with switchboard/fusebox problems requires licensed electricians, and our team is the best there is to perform on the following switchboard/fusebox works:
Switchboard/Fusebox Inspection – New switchboards or fuseboxes work at their best for the first 10 years. Hence, if you units are older than 20 years, expect electrical issues to surface from time to time or even frequently. To ensure your switchboards or fuseboxes, our team can perform physical check and functional test on every component. Our fault-finding tests are highly reliable. We guarantee you that even small signs of abnormality in your units will not be disregarded. We put importance to this service to prevent electrical issues to worsen and avoid potential fire and other electrical danger.
Switchboard/Fusebox Repairs – After a thorough inspection of your switchboards/fusebox, our team will explain what types of repairs are needed for your units. After approval, we proceed to the repair works diligently. Our expert team has the best knowledge and experience to carry out the repairs successfully. We excellently bring your units back to work in no time. We have the highest quality of materials and equipment for more effective repairs. Therefore, services done are guaranteed to meet your satisfaction and bring convenience to our valued customers.
Switchboard/Fusebox Upgrades – Old fuseboxes that has been causing problems frequently are subject for replacement. You don't have to suffer from electrical issues all the time and get the convenience you deserve. Worry less on your appliance usage with a reliable switchboard. It is time for you to have a switchboard/fusebox upgrade Kogarah from Gordon's Powers. Before every upgrade, we make sure that you will get the best type of upgrade you need. We will evaluate your electrical demand, circuits, and fusebox placement. You'll receive a complete and affordable service from Gordon's Powers team.
Put an end to electrical problems caused by faulty switchboards/fuseboxes. You never have to put up with these issues anymore. Instead, act on it by having your local Gordon's Powers expert and reliable electricians to provide excellent repair and upgrades. Rest assured that our advanced services will meet your satisfaction and leave you in awe.
Hot Water Heater Repairs Installation Kogarah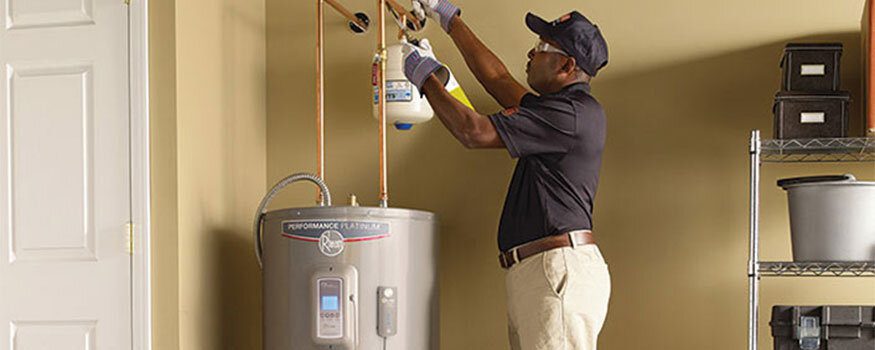 Having a stable source of hot water is never impossible with Gordon's Powers Hot Water Heater Repairs Installation Kogarah. With expert team of electricians, all of our services are guaranteed effective and efficient. Moreover, we have top quality hot water heaters to use for installation. Our team is not limited to providing installation of the hot water heater but also an entire hot water heater system. We perform gas fitting, cover plumbing and more hot water heater associated works. You never have to get other services to get things done for you for Gordon's Powers is sufficient to work alone on your hot water heating systems.
There are many types of hot water heaters and one of the most common type is the electric hot water heater. This is preferred by property owners who have consistent demand of hot water. Homeowners are the top users of hot water used for bathing, laundry, swimming pools, and more. The following are types of electric hot water heaters you can choose from:
Storage Tank Hot Water Heater – Powered by electricity, the water is heated in a water tank and stored for ready use. This is the most convenient type of hot water heater due to its ability to supply hot water anytime without too much effort in operation. This is commonly preferred by homeowners and business owners with high demand of hot water.
Tankless Hot Water Heater – Not having a tank to save water, this hot water is not advisable for high-demand use. Although, operating it is as convenient as the storage hot water heater, it takes some minutes before hot water is turned on. This is typically used in properties with very low demand of hot water because simultaneous use is not supported by this unit.
Many property owners look for a way to save from energy costs. No worries. Gordon's Powers also install these hot water heaters with alternative energy source such as:
Gas Hot Water Heater – This is one of the most common hot water heater that uses alternative energy. Be able to save from energy cost, however, this is a very delicate unit to handle. With gas as its energy source, installation has to be given high attention and expertise. Have Gordon's Powers skilled team to take on the job to make sure that your gas hot water heater is installed flawlessly.
Solar Hot Water Heater – Spend now and save later is the main goal of a solar hot water heater. For this hot water heater, solar panels are used to collect solar energy. Solar panels are a bit expensive that is why this option is chosen only by property owners who are willing to initially invest but be able to cut off a huge amount on electric bills in the future.
Gordon's Powers has the highest knowledge and best performance in hot water heater repairs installation Kogarah for many years. With our expert service, rest assured of uninterrupted hot water supply for your home and business needs.