Level 2 Electrician Lotus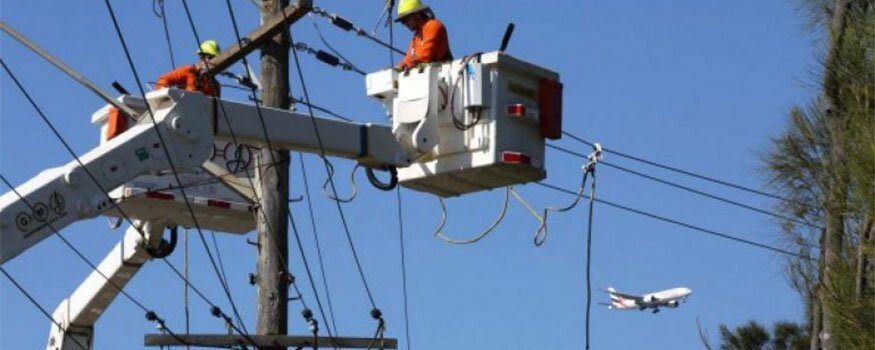 Do you need your main service be checked immediately by professional Level 2 Electrician Lotus? No need to wait for Level 2 electricians that keep on putting your concerns on hold. You got a team of expert and licensed Level 2 Electricians from Gordon's Powers. Once you report an issue, we will take action to the issue may it be small or big. We will never keep you waiting. You will be free from worry in no time.
We are a team of certified professionals that are allowed to work on consumer service lines by Ausgrid and Endeavor Energy. We attend to all types consumer mains services such as follows:

New Service Line Installation – We specialise in connecting or supplying your property with overhead or underground service line. Every installation is completed with metering as well. We can inspect your property and discuss the appropriate service line depending on property structure, client's requirement, and budget.

UV Damage Consumer Mains – If you have an existing overhead service line that has been installed for many years, you may expect a defect notice from Endeavour Energy or Ausgrid for your cable lines. What can our team do for you? We can repair the cables by increasing insulation. However, if the damage is unrepairable, we can perform a full replacement of the whole cable line.
Metering Services – Our team provide an array of metering services such as new meter installation, replacement, and repair. Metering services are needed together with switchboard upgrades, temporary builder's services, electricity supply combination/separation, and single phase to 3 phase upgrade.
Our team are available 24/7 for any electrical emergency you may experience in your mains connections. We can respond quickly and get the job done effectively. Gordon's Powers can organise the following work for you, no hassle required:
Fuse equipment repair and replacement
UV Damage defective notice repairs
Installation of underground consumers mains both single and three phase systems 24 hrs
Off-peak relay installation and associated metering equipment
Repair of single and three phase consumers mains 24hrs
Point of Attachment relocated or repairs
Electricity system capacity extension and upgrades
Electricity metering equipment installation
Connection of your mains service lines to the local electricity network
Disconnection of your mains service lines from the network for minor repairs
Permanent disconnection of your mains service lines for building demolition
Private power pole and underground pillar installation, replacement and removal
Upgrade your existing service from single to three phase or just increase the supply capacity for extra load requirements
Connect your mains service lines to the network and energise your installation.
Emergency Electrician Lotus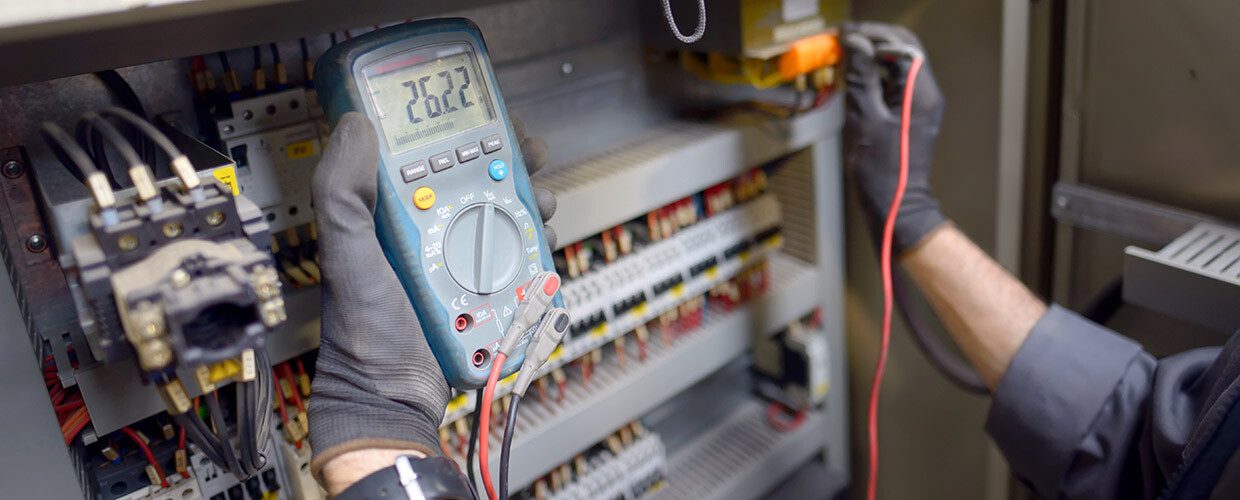 Need a fast and fully equipped Emergency Electrician Lotus who can respond to your electrical emergency fast? You landed at the right page. Gordon's Powers has the best team of skilled and reliable electricians to rescue you on your electrical emergency as soon as possible. Our business has been successfully running for over than 10 years. We have earned great feedbacks from our valued customers because of our prompt and reliable service.
Earning the trust of Lotus residents has been one of achievements. For this, we are dedicated to excel each year and provide the services that will guarantee and even exceed your satisfaction.
Our team will come to rescue you in all electrical emergencies such as follows:
Wires failing to trip – Normally, circuit breakers shuts or trips automatically when there is something wrong anywhere in your electrical system. However, if your circuit breaker fails to trip, this means that it is busted. Your electrical system would possibly fail and leave your property and even your family in danger. This needs immediate checking so proper repair would be conducted.
Power Outage – Power outage normally occurs and scheduled by your utility company. This may be due to storm, maintenance, and general repair. Check with your utility company if the power is just within your premise. Upon confirming, this is the time you need to have your connections checked as soon as possible. Electrical issues are hazardous. Always be cautious to inspect the problem to avoid electric shock.
Overloaded Outlet/Circuit – Putting too much load on your circuits by plugging or using appliances and other electrical equipment at the same time can cause overloading. This will heat up the outlets or wires that will ignite fire. Some common signs of overloading are dimming or flickering lights, electrical sparks, and tripping. You may notice a burnt outlet or wire. Your safety may trip and shuts down all electrical activity in the affected circuit.
Open Live Wires – Service lines may get toppled because of storm. Trees that fall on trees may leave open live wires. This is very serious electrical emergency. Your utility company may disconnect the power during the storm but will turn back up when it is over. Never attempt to go near the wires and to the water it touched to avoid electric shock.
Electrical Fire – Always be prepared for electrical emergencies especially for electrical fires. Never attempt to put out an electrical fire with water because it will worsen the situation and cause electric shock. A fire extinguisher will have to be on standby in every household or property.
Any electrical emergency can cause harm. Not knowing what to do can put your life at risk. It is essential for us to know how to deal with such situation because we are surrounded by electrical equipment in this modern world. In Lotus, you have Gordon's Powers as your partner in protecting lives and properties from electrical problems. Stay alert and be vigilant when you see warning signs. Have your local Gordon's Powers emergency electrician rescue you 24/7.
Smoke Alarm Installation Lotus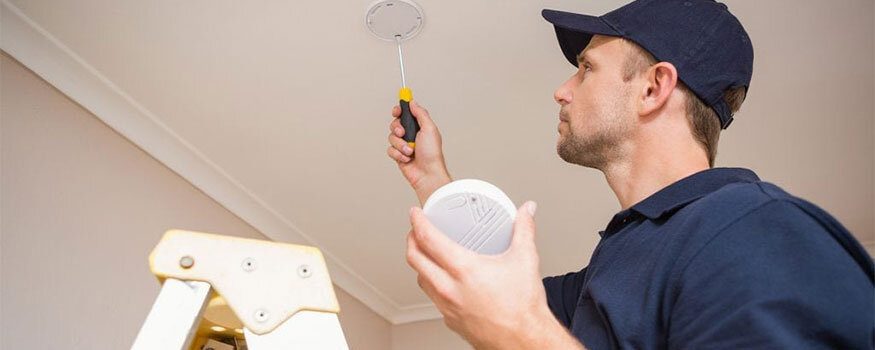 Avoid fire from harming your family and destroying properties by getting a perfectly done Smoke Alarm Installation Lotus. No need to look further because you have the best smoke alarm installation in town. You have Gordon's Powers smoke alarm services to respond to all your smoke alarm needs. We have been in the business for over than 10 amazing years of promoting safety from fire with our excellent performance. With great feedback from valued customers and great experience, we are confident that you are getting the highest quality of safety.
We all know that fire is destructive and has destroyed many properties and even took lives around the globe. Therefore, it is a must for every property owner to have a smoke alarm installed in their properties. Even being careful, fire may occur can occur unexpectedly. Electrical fault is one common cause of fire. This may be left unnoticed for some wirings are hidden behind wall, inside ceilings, and wood floorings. Other causes of fire are arson and juvenile fire setting that may cause raging fire. Hence, the importance of having a smoke alarm is highly important.
Gordon's Powers has the best knowledge in smoke alarms. Smoke alarms can be powered by electricity or just batteries as explained below:
Wireless or Battery Powered Smoke Alarm
Wireless smoke alarms may be easily installed. However, assistance from the experts are still required to make sure that alarms are correctly installed and are working. You also have to choose the right type and brand of smoke alarm for optimal safety. In Lotus, you have Gordon's Powers who has the best knowledge in smoke alarms. We also use the best effective quality and brands of smoke alarms. We plan the correct placements of smoke alarms especially if your property has multiple floors and rooms. You have different types of smoke alarms to choose from such as the photoelectric smoke alarm, ionized smoke alarm, and combination smoke alarm.
Hardwired Smoke Alarms
Our team is highly experienced in installing hardwired smoke alarms. This type is often chosen by home and business owners because of its stability. Being powered by electricity, it is guaranteed to work as needed. Our team use hardwired smoke alarms has 10 years battery life back-up. Having a power outage doesn't limit its ability to detect smoke and set off. If multiple smoke alarms are required to be installed, our team will perform a complete check of your electrical capacity to ensure that the units will be accommodated. This helps avoid overloading that can cause electric disturbance.
Gordon's Powers service is not limited to installation. We have all the services you need concerning smoke alarms and other electrical issues. We can respond to all types of smoke alarm issues promptly. We get it fixed in no time to get your safety from fire even after work hours. Old smoke alarms often show signs of malfunction such as beeping sound, chirping sound, false alarm, no sound, and more. Once these signs are present, allow Gordon's Powers to diagnose the problem and help provide permanent solution.
Switchboard/Fusebox Repairs Upgrades Lotus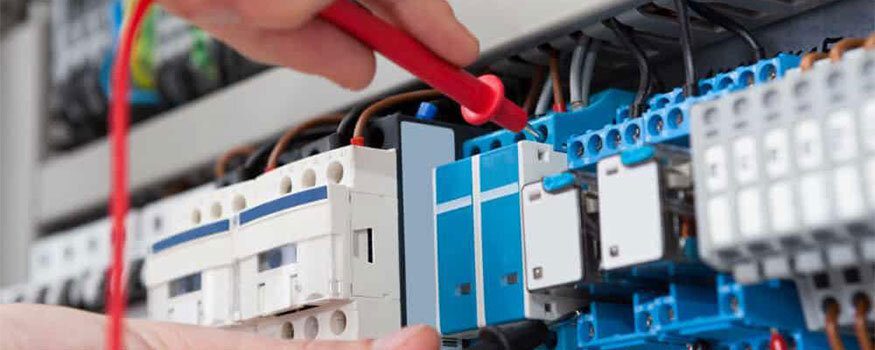 If your fusebox has been frequently malfunctioning, you immediately need an excellent Switchboard/Fusebox Repairs Upgrades Lotus done. The switchboard or fusebox is the most important part of an electrical system. It is responsible in relaying electricity to a number of circuits alone. Therefore, experiencing a frequent problem in any of these circuits can cause your switchboards to be worn out. When faced in any electrical issue, you have Gordon's Powers to help check all electrical faults and will give solution to the problem.
Many properties nowadays are still using porcelain fuseboxes or outdated switchboxes. It is time to reconsider an upgrade. If your property is newly renovated, you will need experts to plan electrical system as well your switchboard. Having too much appliances running also needs immediate attention. Your old switchboard or fusebox may not be able to handle the demand of electricity.
New Switchboard/Fusebox Upgrades Lotus
Our team is dedicated in providing safety from electrical problems caused by your switchboards. Old switchboards/fusebox older than 15 years are never reliable to work on protecting electrical systems that can't handle advanced technology's demand. Gordon's Powers can design a switchboard that works best for your property.
Switchboard/Fusebox Repairs
If your switchboards are always tripping, have the attention of your local electrician immediately. Common causes are short and overloading. Knowing the reason behind every switchboard problem is very important. That's why Gordon's Powers is here to identify the main problem. Every little cause will be repaired and the damage made to the switchboard will be fixed permanently.
Switchboard/Fusebox Maintenance
We make sure that your switchboxes continue to work at their best by performing a maintenance service. We will conduct parts testing to identify if they are still capable of working properly. We provide this comprehensive maintenance annually or as needed by our clients. With a maintenance, experience less electrical issues and be able to use the electricity conveniently.
Here are some electrical problems you need to watch out for that can damage your switchboards:
Overloading – Using appliances simultaneously in one circuit can cause switchboards to overload. This will automatically trip the switches or blow up fuses.
Flickering Lights – This is also a sign of overloading. However, it also indicates loose wiring and other wiring problems. We can check the wirings of your whole electrical system especially the switchboard wirings.
Frequent Tripping – If your switchboard frequently trips, this indicates a couple of electrical issues. Your existing switchboard may also have defective switch and parts due to old age and weather conditions.

Burnt Components – If your switchboards keep in tripping or fuses blow most of the time, the surrounding components can get damaged. We can replace busted or worn out components to make your switchboards good as new.
Pay very good attention to these electrical problems to help you take action as early as possible. When faced in any of the issues, stay alert and never attempt to touch anything without prior knowledge. Always have your trusted Gordon's Powers electricians to perform reliable and prompt Switchboard/Fusebox Repairs Upgrade Lotus.
Hot Water Heater Repairs Installation Lotus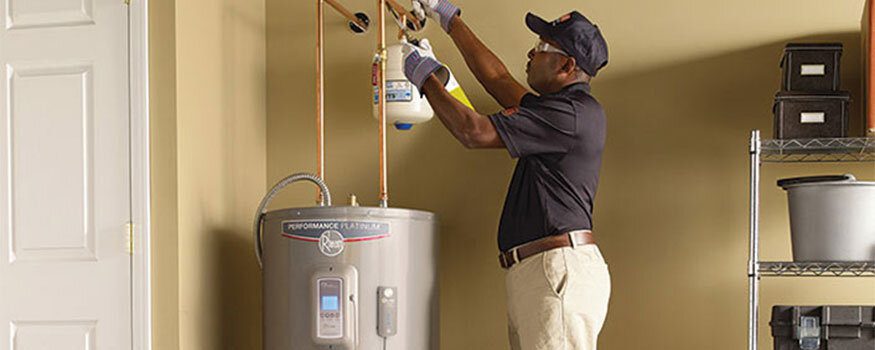 Don't suffer from freezing cold water by getting an effective Hot Water Heater Repairs Installation Lotus. Have Gordon's Powers give solution to all your hot water heater problems once and for all. As a family run business, we know how inconvenient it is not to be getting the hot water you need on a daily basis. This can be very stressful. Getting the wrong service provider will be very frustrating if the repair done is not reliable. Never waste time and energy on them. Look into getting honest and reliable services from our team of experts.
For our valued customers convenience, we offer all hot water heater services such as follows:
Hot Water Heater Repairs – Your hot water heater can show signs of problems which you have to pay very good attention to. Ignoring such signs can cause your units to get damaged and even harm. Some common signs are no hot water, water getting too hot, water is taking long to heat, water leak from storage tank, and water with rusty colour. Have your local Gordon's Powers team check the signs and we will provide permanent repair solution so you won't have to experience the same problem repeatedly.
Hot Water Heater Installation – Everyone deserves a hot shower after a hard day's work, and you deserve an excellent team to perform a well done hot water heater installation Lotus. Gordon's Powers has top knowledge in hot water heater types and brands. We can discuss your hot water heater requirements and our team will lay down all options to help you decide on what hot water heater system to choose. You can choose from the following hot water heater units:
Demand Type Hot Water Heater – Property owners who have low demand of hot water may opt for this type of hot water heater. Hot water is produced only when needed. This type needs no standby energy. Therefore, you can save money and cut off from electric bills while having a good source of hot water. We can help you decide if this unit is right for your home.
Storage Hot Water Heater – The storage hot water heaters are either fueled by gas or powered by electricity. Both types of hot water heater have advantage and disadvantages. The gas hot water heater is less expensive but installation and the structure itself is delicate. Since it involves gas, it needs more maintenance and checking to avoid damage and danger. The electric hot water heater, on the other hand, requires a standby energy which will cost you more on your electrical bill. However, this can be easily installed and needs less management. It may be a bit tough to choose from the two but our team will guide you on selecting your preferred hot water heater.
We also specialise in installing hot water heaters using alternative energy such as the Solar Hot Water Heater and Hybrid Hot Water Heater. With Gordon's Powers, you have the complete hot water heater services you need. Have your hot water heater as soon as possible.