A small step can go a long way when it comes to outdoor lighting.
Unlike indoors, you need less lighting equipment outside to visualise colours, shadows, and patterns. However, you don't want your garden to be pitch black during the night. 
Also, a well-lit garden provides visibility and safety for families who enjoy stargazing and bonding activities under the Sydney moonlight. With a few ideas for your yard and tips from lighting experts, your garden can boast its majestic tones sun-up or sun-down.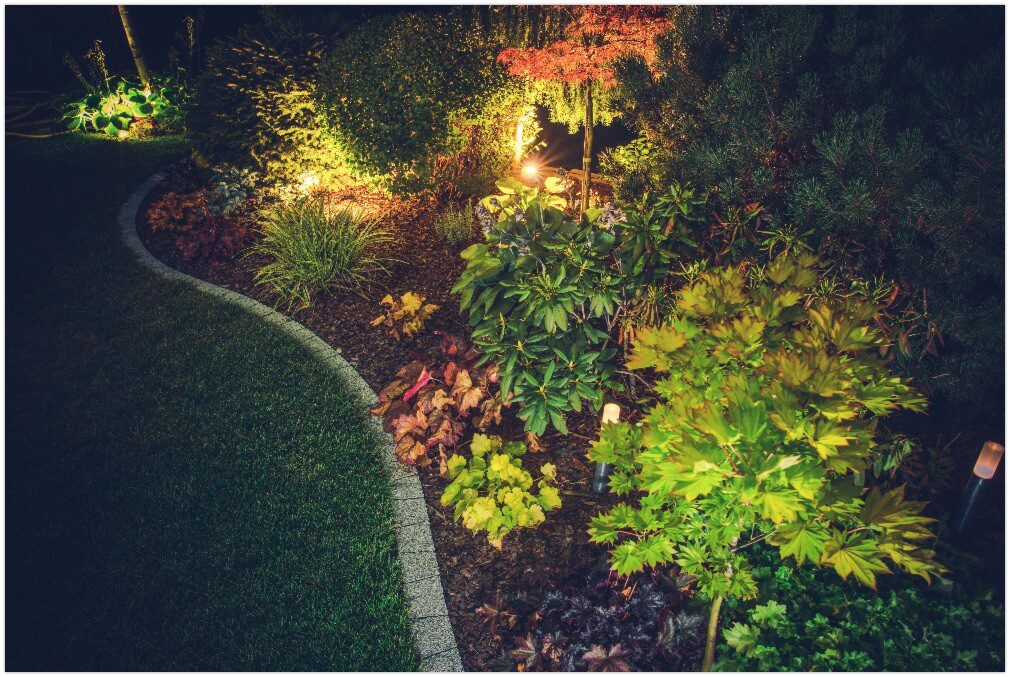 With that said, here are some tips to guide you in getting the best out of your outdoor lighting.
Landscape Lighting Basics
Outdoor lighting is commonly used to light up landscapes and pathways during nighttime. How you see the light during the daytime is different from how it is seen at night. So a well-planned lighting design gives your outdoor space a new perspective after dark.
For beginners, light has both intensity and colour. These are essential categories that indicate how a bulb will look like when turned on. You can find these values in packaging that range from 1800 kelvins (K) which are warmer tones, up to 7500K which are bluish-white variants.
Furthermore, you can integrate your landscape lighting into your home wiring system. But a safer and more practical choice is to use solar lighting systems to power your garden lights.
Landscape Lighting Placement Ideas
Your garden is a canvas not only to paint with flowers but also with lighting. Along those lines, you can create a nighttime masterpiece by complementing garden structures and pathways with outdoor lighting. Essential outdoor lighting can be used in areas like:
Pathways
Give your yard a welcoming vibe by illuminating your pathway. This extends hospitality to guests and allows for a safe outdoor stroll during the night. 
You don't have to install bright lights, as downlights will do just fine without the nuisance glare. Another excellent idea is using individually-lit pavers to emphasise the pathway.
Entries
Aside from illuminating your pathways, installing lights on entry points around your house will further improve its nighttime elegance. You can put lighting on both sides or overhead of your front, back, and side entry doors. Just make sure not to overdo it as you want your lights to be calming and therapeutic than glaring and power-hungry.
Driveway
Safety is the primary reason why outdoor lighting is a need, especially along a driveway. For these setups, a low-voltage landscape lighting is ideal since it is easier to install and more energy-efficient than other lighting systems. After all, you only need it to outline the path from the curb to your garage or parking space.
Stairs and Steps
Speaking of safety purposes, you should light up steps during the night to prevent accidents. Modern LED setups such as deck lights and stair lights are effective choices because of their reliability and energy-efficiency.
Decks and Patios
Outdoor lighting should illuminate particular task areas on decks and patios. Whether it is a grilling spot or a seating area, you can apply uplighting setups to send light upward on an umbrella or an overhanging deck to diffuse light around the place.
Gazebos, Pergolas, and Trellises
With the use of outdoor lighting, you can level up your garden landscape after sunset by highlighting interesting built elements such as pergolas and trellises. Lighting up your gazebo with warm tones can also make it a welcoming masterpiece at the core of your landscape.
Other Architectural Features
Outlining your property with a gentle touch of light is possible with the use of outdoor LED strip lights. This creates a mix of exciting highlights and shadows that also helps accentuate the surrounding plants ‒ giving them a perspective only visible during the night.
Generally, there is a vast array of outdoor lighting fixtures you can use to get the best out of your landscape. But most importantly, make sure all the fixture you use are rated for "UL wet location" to ensure reliable waterproofing and electrical safety.
Retaining Walls
At Gordon Powers, we specialise in providing exceptional electrical services to ensure your property is safe and well-lit. If you're working on a landscaping project like building a retaining wall, proper outdoor lighting is crucial for both safety and aesthetics.
To find the right materials for your retaining wall project, we recommend visiting Retaining Wall Supplies. By combining our expertise in electrical solutions with high-quality retaining wall materials, you can create a stunning and well-lit outdoor space that meets your needs.
Your Solution to Outdoor Lighting Systems
In installing outdoor lighting systems, your garden's aesthetics, lighting function, and electrical safety must be the priorities. To ensure a beautiful, reliable, and safe lighting system inside and out, trust only the proven level 2 electricians at Gordon Powers.
Our certified Level 2 electricians are experts in electrical and lighting systems installation. We will also troubleshoot your electrical system and identify faulty hotspots to prevent outdoor lighting failures and other electrical emergencies.
Call us at (02) 9199 7480 for an appointment or inquire with us via email.