Safeguard your home from unexpected electrical faults
There are potentially endless reasons why you would want to conduct a routine electrical inspection in your home. The electrical connection in your home usually runs inside your walls and this implies that you may not be able to identify any potential problems with the naked eye. As such, electrical issues are likely to occur when you least expect it.
According to a particular report, electrical problems are the largest cause of property damage in household-related fires across Australia. What's more, the report indicates that small appliances plugged into improper home wiring are among the leading causes of accidental electrocutions.
Fortunately, a significant number of these electrical safety hazards can easily be addressed, contained and prevented through a thorough electrical home inspection.
What does an electrical system inspection entail?
Typically, an electrical system inspection provides a detailed and thorough examination of your home electrical system. To be more precise, it involves keenly examining all the electrical cables, systems as well as appliances in your property to ensure that they are in perfect working condition and also meets the legal safety regulations.
Upon a successful examination of your home electrical system, the qualified electrician should issue a detailed checklist of the areas within your home that may need immediate attention.
Depending on the outcome, some electrical components or systems may need improvements, an upgrade or even a replacement. A proper and comprehensive electrical inspection should at least cover the following:
Check if there is unprotected wiring in your home
Identification of outdated wiring
Determination of potential electrical hazards
Check for any electrical components which do not comply with your local regulations
Test safety switches
Take a look at your power box
Test lighting and power outlets
Find out whether your property includes any form of DIY wiring
An evaluation of the level of electrical service
The verification of proper light bulb wattage
Confirmation of grounding systems
An examination of your outdoor electrical systems
Validation of proper surge protection
As you can see, this process involves a lot of complex work. It is something that cannot be conducted by an average electrician. You need to work with a highly qualified and experienced professional. Due diligence should guide you toward finding who fits the bill.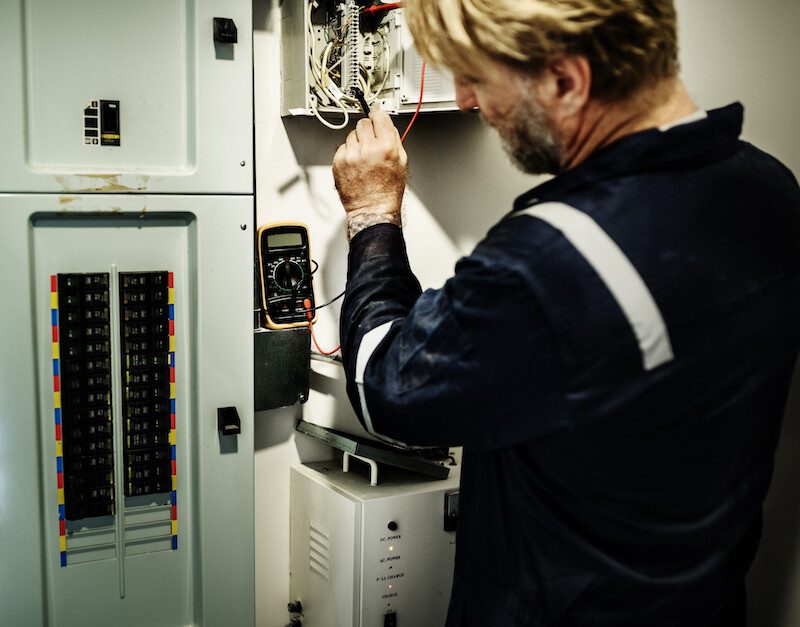 When should I have my electrical system inspected?
This is a critical question. Most homeowners either do not know or are unsure of the correct time to inspect the electrical system in their home. If you are facing the same dilemma, we've got you covered. There are a couple of principles or rules that should guide you accordingly.
Are you living in an old home?
Just like any other thing, an electrical wiring has a certain lifespan. Most electrical systems can be expected to last for between thirty to forty years. It is estimated that about one-third of Australian homes have had the same wiring for over fifty years, which is seriously alarming.
It is also critical to note that the wiring system in old homes may not support the electrical needs of a modern home. There are probably a lot of appliances in your house today, including smart TVs, electric ovens, mobile phones, dryers, home theatres and much more which are power-hungry. When you live in an old home, you'll commonly experience issues such as:
Fuses which frequently blow
A frequently tripping breaker
Regular power outages
Your electrical system should be large enough to meet the electrical needs in your home. What's more, the wiring should be grounded and in good working order. That is essentially what an electrical inspection is all about.
Electrical inspection is part of regular home maintenance
The maintenance of electrical systems and wiring should be conducted on a regular basis, probably annually. The examination of power outlets, electrical switches, circuit breakers for normal functioning is essential to the health of your house electrical functions. As we previously mentioned, electrical issues are always hidden and may only pop up once. Thankfully, homeowners can rely on routine electrical inspection to help identify potential underlying issues in their homes.
Have you experienced flooding or storm damage?
Flooding and storm damages can cause severe negative impacts on the electrical system in your home. Any electrical issue which may have been caused by either flood or storm can pose a huge risk to your home's safety. This implies that in the wake of such a catastrophe, you should immediately schedule an electrical inspection. It will help assess the level of damage as well as what needs to be repaired accordingly.
These are arguably the most important scenarios that would demand a home electrical inspection. However, you'll also need to carry out electrical system inspections when purchasing a new property. You don't want to invest your money on a property plagued with a whole host of electrical issues. It will allow you to identify any problems and negotiate accordingly. If there are many electrical repair problems, then you may need to reconsider your options.
In summary, electrical inspections are a must for every household. It is the only way to ensure both the security and safety of your home and family in general. Gordon's Powers offers thorough home electrical inspection that will keep you and your family safe.
Contact an arrangement with our licensed electrical inspector today on 9199 7480.