Making environmentally-conscious decisions and choosing greener alternatives at home and in our lifestyles is crucial in combating global warming and pollution. That includes saving energy and using sustainable resources such as natural lighting and ventilation.
But if you are working for long hours and spend most of your time in the company office, you might wonder if you can take a few steps further. While bringing your own tumbler and turning off the pantry and meeting room lights might help, these can only make a significant difference.
If your company and office commit to using renewable energy in your establishments, you'll need to invest and put more effort during the process. Eventually, you'll get to see the results and reap the benefits of green energy, both for our planet and your brand.
Furthermore, manufacturing costs for solar cells and wind turbines become cheaper as innovations and breakthroughs improve our technology. That said, Australian brands and power grids continue to adapt to renewable energy and break energy records year after year.
What Is Renewable Energy?
By definition, renewable energy, also known as clean/green energy, comes from sustainable and natural sources replenished more rapidly than non-renewable sources. The most common renewable energy sources are sunlight and wind, although their availability varies among different seasons, times, and weather.
People also often misinterpret renewable energy as a relatively new innovation. In fact, Australians have been using natural energy for heating, transportation, and agriculture for a long time.
Wind power has been powering ship sails and windmills for both transportation and farming, while the sun helped people dry clothes and start fires for the evening.
We heavily transitioned into cheaper and dirtier power sources like coal and fossil fuel during the Industrial Revolution. But nowadays, countries and companies have begun replacing coal and natural gas with renewable sources to take advantage of lower carbon emissions and the promise of sustainability.
It's also worth noting that not all renewable sources are completely green and clean. That's because massive biomass plants and hydroelectric dams significantly impact wildlife and the environment, notwithstanding other concerns.
Even so, we can still streamline smaller-scale renewable energy sources to support the energy demands of single establishments and offices. That said, here are some interesting facts we handpicked about renewable energy: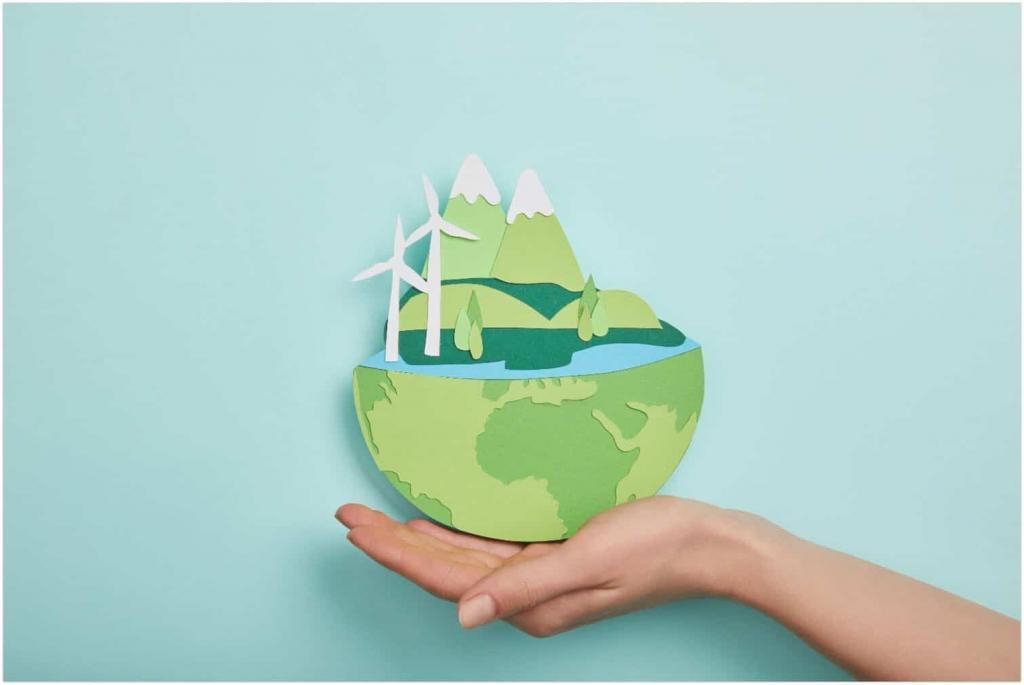 Interesting Facts on Renewable Energy
Australia had a great run in 2019 after exceeding its target of generating about 24% of its energy demand of roughly 33 Terawatt-hours of power. From 2007 to 2017, Australia's annual renewable energy use grew by as much as 3.3%, with a 5.2% increase from 2016 to 2017. Renewable energy also accounted for about 6.3% of the country's entire energy demand in 2018.
Those figures significantly contrast non-renewable sources, with coal decreasing by -1.9%, natural gas staying at about 3%, and oil at 1.7% from 2007 to 2017. In 2019, the 24% share of renewable energy accounted for as much as 55,094 Gigawatt-hours (GWh) of electricity, and you can do your part and contribute to this year's figure starting at your office.
Solar Energy
The only way to harness solar energy for residential and commercial purposes is via photovoltaic (PV) or solar cells. These cells mainly consist of silicon and photosensitive materials that generate electron flow (thus, electricity) from sunlight.
In Australia, solar power systems generate and distribute clean energy for the locale using solar rooftop panels installed on residential and commercial establishments. Some also use community initiatives to power an entire neighbourhood. 
Companies also started using rooftop panels and tap onto solar farms, including floating solar cells, called floatovoltaics. These alternatives effectively utilise wastewater facilities and bodies of water that aren't ecologically sensitive or wildlife-rich.
In numbers, solar energy accounted for about 5.3% of Australia's overall energy generated in 2018. That consists of as much as 11.7 terawatt-hours (TWh) generated in one year.
Wind Energy
Australia's wind energy generation promised as high as 21,600MW during February of 2020, with roughly 6,300 megawatts generated by wind farms as of December 2019. Currently, Australia has more than 100 wind farms that use 1.5 MW to 3 MW wind turbines.
The country also has plans to construct additional 30 projects with a combined capacity of about 5,500 MW within 2020/21. Wind farms are also widely available around New South Wales, giving offices and companies an option to shift coal/gas power to renewable energy.
Hydroelectric Power
Aside from solar and wind energy, hydropower is among Australia's largest source of renewable energy. While wind energy has more potential to take the lion's share in a few years, Australia has vast sources of moving water that can power large-scale hydropower plants.
In 2009, Australia's installed hydropower capacity reached about 8,800 MW. Hydropower pumped storage also delivered as much as 1,340 MW during the same year, with overall hydropower energy generated more than 17 TWh.
Renewable Energy Applications
Companies and offices benefit from renewable energy and its real-world applications more than ever. With urban access to green power becoming more accessible, Sydney's business districts and commercial spaces now have multiple renewable energy options.
Here are some of the largest applications of every renewable energy source and their overall impact on Sydney's economy.
Solar Energy
By far, solar energy is the most accessible renewable energy for small-scale applications. More and more Australian brands are investing in solar panels and inverters for their commercial space and offices. Australia's solar industry also displays significant development as it hits a record-high 3.5 million photovoltaic panels installed in 2019.
Wind Energy
While wind energy isn't as widespread in New South Wales as much as the southern coastlines, it still offers a viable solution for commercial applications. Since wind power isn't as commercially available as solar power, it's commonly used for specific purposes, like:
Water supply and treatment

Agricultural applications

Manufacturing
Nevertheless, hundreds of wind farms operate around Australia's southern coastlines that distribute electrical energy to nearby cities and neighbourhoods.
Biomass Energy
Australia's biomass energy potential is rather massive, thanks to its vast supply of organic matter, municipal solid waste, and other materials that store energy. Some recycling facilities and landfills incorporate biomass energy to power their production, using green waste and crop residues as fuel.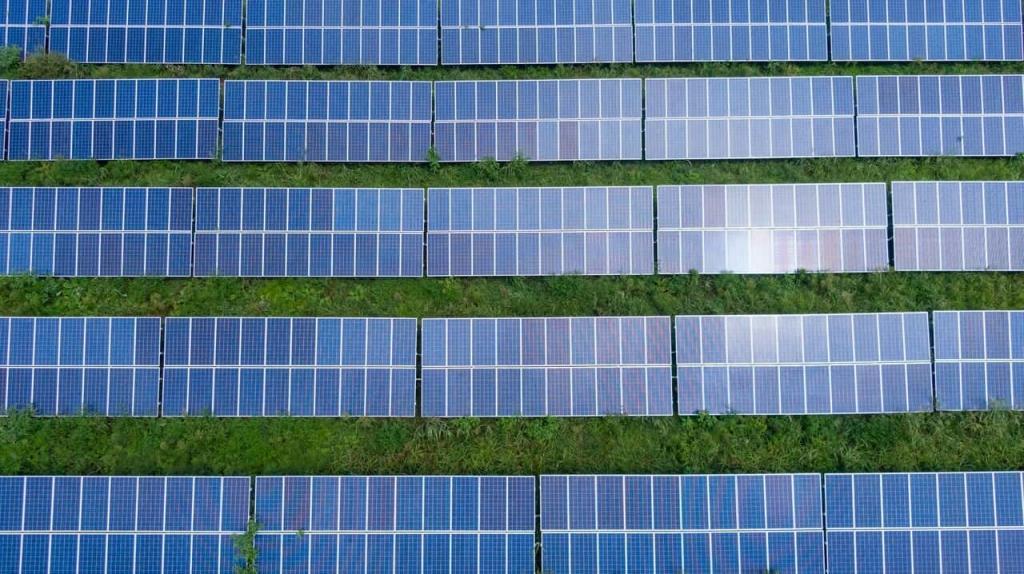 Renewable Energy in Australia
In 2019, Australia's overall renewable electricity generation reached 21% share, with most of it distributed to residential and commercial facilities, according to the Australian Energy Statistics.
In terms of growth per output, solar energy accounts for 46% growth, higher than 19% growth in wind power output. From that, we can infer that solar energy will remain the most reliable and accessible renewable energy for Australian businesses and offices.
At this point, the facts we presented should give you an idea about how much Australia consumes every type of renewable energy. Statistics also show that half of South Australia's energy demands were fulfilled by renewable energy sources, with solar power dominating a third of the total share.
Hydropower
Australia's topography allows it to tap the sheer hydropower potential and use it for industrial purposes. With almost 26% of Australia's renewable power coming from hydropower plants in 2019, it implies that green power, including solar and wind, has the potential to support high-demand business districts and industries.
Wind Power
Overtaking hydropower by as much as 10%, wind power is responsible for about 36% of Australia's renewable energy and almost 9% of its total energy generated. With about nine wind farms constructed every year, here are some facts about Australia's wind power generation by state:
South Australia: 5,683 GWh

Victoria: 5,408 GWh

New South Wales: 4,399 GWh

Western Australia: 2,136 GWh

Tasmania: 1,237 GWh

Queensland: 625 GWh
Solar Photovoltaics
As discussed, solar farms and solar energy in Australia significantly increased over the years. As of December 2020, we recorded about 2.7 million solar cell installations, combining up to 20,200 MW of capacity.
In 2019 solar photovoltaics became a fast-growing industry as it accounted for 17.4 TWh of Australia's overall energy generation, a huge portion of it powering business districts and cities.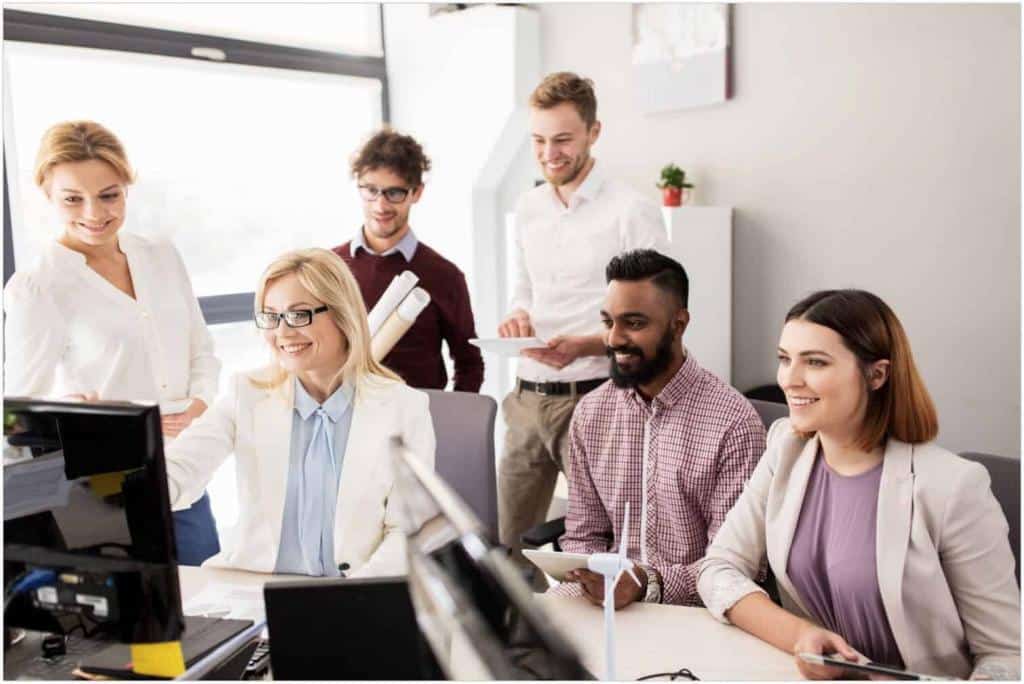 Benefits of Using Renewable Energy in Your Office
At this point, you should already know that renewable energy in Australia is just as accessible as coal and fossil fuel energy. Since clean and renewable energy doesn't require carbon compounds to produce electricity, it's basically a more sustainable and green power source for businesses and offices.
Besides, it's worth noting that renewable energy doesn't produce greenhouse gases during the generation process. That gives your brand and workforce peace of mind, knowing that you're operating sustainably and contributing to our ecological conservation.
That said, here are some of the benefits you can enjoy by using renewable energy and tapping into cleaner resources for your office:
Minimising Your Carbon Footprint
Our fast-paced lifestyle and technologically advanced human activities contribute to global warming as we produce carbon dioxide and greenhouse gases in the process. As a result, cities suffer from stronger and more frequent storms, longer drought, rising sea levels, and extinction of endangered species.
That's why being on board with green and renewable energy helps curb global temperatures and ensure sustainability in the office. By tapping into renewable energy grids, you can maintain the same productivity and operations in the office with little-to-no greenhouse gas emissions. Think about keeping your office cool without increasing the global temperature.
Reinforcing Branding and Public Image
Startup and leading brands both understand the power of good public relations and excellent branding. Moreover, committing to using renewable energy and making it known to the public will further reinforce your branding and customer relations.
If you transition into following a more sustainable and eco-friendly approach to doing business, you can resonate with environmentally-friendly consumers and build lasting relationships. More and more companies integrate sustainable development goals into their marketing campaign and capitalize on them to attract shareholders and consumers.
Cost-efficiency
While investing in high-quality photovoltaic cells seems like a costly price for some offices, it's only a matter of a few years before you breakeven and reap the benefits of clean energy. 
Think about it. Plugging off all electronics after work hours will save your company a lot of money every year. But if you have reliable PV cells that keep generating power even when unused, you can send it back to the grid and instead earn some money or credit in the process.
As a result, the cost per unit of current energy for using solar power than your current grid might be significantly smaller, if not negative. 
Reliability and Resilience
Investing in durable and proven solar panels can also take off the burden of relying on grid-provided electricity. Since the panels are very compact and weather-resistant, you don't have to deal with monthly maintenance and replacement once a Level 2 electrician finishes installing them.
As long as you rely on professional electricians throughout the solar panels' installation and operation, your photovoltaic system should work fine for as long as 40 years. Besides that, since you're investing in a self-generation power system, you can essentially minimise your reliance on the municipal grid and polluting power sources.
Besides, you can also detach your company from the ever-fluctuating electrical grid prices. Keep in mind that municipal energy fluctuates with the price of coal, oil, and natural gas. But if you're harnessing energy from the sun, then you'll maintain access to self-generated energy even when grid power isn't available, saving you significant downtime hours.
Possible Tax Rebates
Depending on your local council and energy provider's policies, you can make money through feed-in tariffs. If your solar panels produce more energy than your office needs, you can receive a specific payment rate for every kilowatt you provide to the grid.
If you also plan to purchase photovoltaic cells through a government program, you may also be eligible for a government tax rebate, thereby reducing the cost of installing your panels.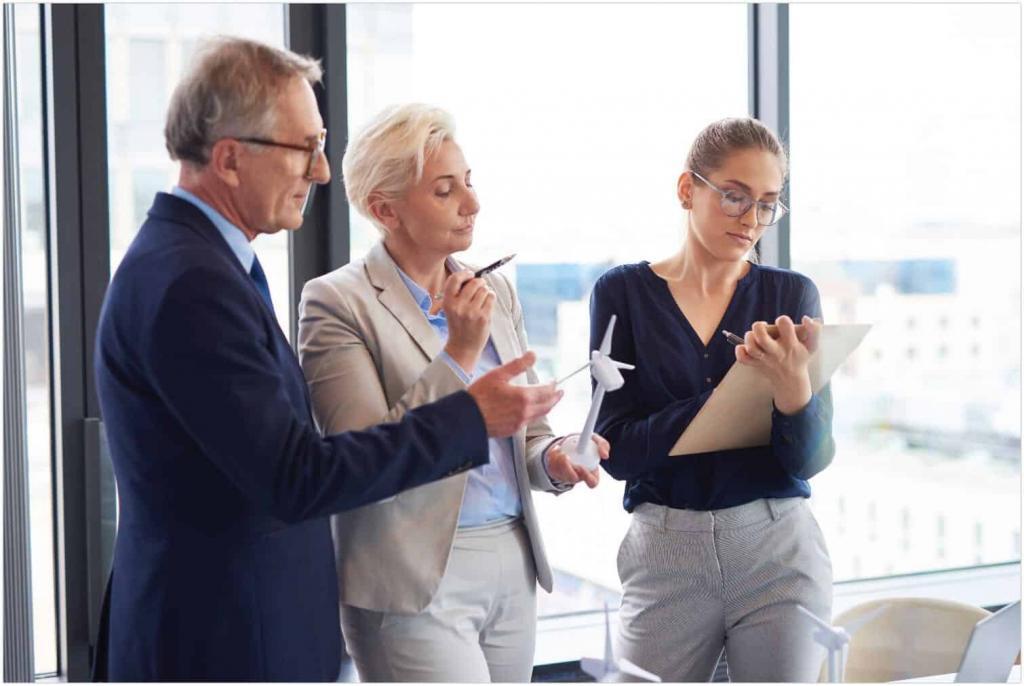 Is it Too Late to Switch to Renewable Energy for Your Office Needs?
When it comes to shifting towards greener energy, one question always stands out like a sore thumb. Is it ever too late for a well-established business to transition towards renewable energy? 
Renewable energy holds a ton of potential to increase a company's annual savings and strengthen its branding. It also helps offices achieve and exceed their CSR commitments, especially if you share your vision of sustainability with your consumers and stakeholders and make a positive environmental impact.
With the facts and figures supporting the evidence, it's no wonder that we need to switch to renewable energy as soon as possible. But transitioning isn't a plug-and-play process, as you'll need comprehensive planning and sustainability management design to achieve your goals in the shortest time frame.
Final Thoughts
With Australia's renewable energy industry witnessing rapid developments, businesses and offices have better access to cleaner and sustainable energy options. 
Successive innovations and developments in technologies surrounding green energy also reduce manufacturing costs. This allows you to invest in durable and long-lasting panels without breaking the bank.
Moreover, switching to cleaner energy also opens more opportunities to engage and communicate with a broader audience. If your brand shares the vision of a sustainable and eco-friendly future, then there's no better way of conveying your message than taking a proactive decision of using clean energy.
Switching to self-generating power sources also eliminates the risk of power surge and damaging transient currents during power grid outages and blackouts. That way, you can ensure that all electronics in your office are safe from unwanted damage, thereby reducing the chances of catching electrical fire in your workplace.
If you want to install solar cells or tap on municipal renewable energy grids, seek professional help from licensed Level 2 electricians from Gordon Powers in Sydney. 
Investing in costly equipment and electronics will mean nothing if you rely on poor installation and electrical companies without insurance and accreditation. To make sure that you get the most out of your investment and that it will outlast its estimated service life, trust only the team of time-tested and proven electricians.
With more than 20 years of experience and hundreds of satisfied clients all around Sydney, we'll help bring your sustainable development goals to life. 
About Gordon Powers
Gordon Powers has a dedicated in-house team of Level 2 accredited electricians across Sydney — from residential properties to commercial spaces. We make it our vision to establish and maintain long-lasting relationships with our customers by providing bespoke and time-tested electrical services and repairs. Gordon Powers strive to deliver 100% satisfaction to our clients, wherever you are in Sydney.
Our certified Level 2 electricians have adequate training and experience in planning, installing, and repairing solar panels and clean energy systems of any scale. We also have the tools and equipment to safely and efficiently cut off any faulty hotspots to ensure that your office is well prepared before you switch to renewable energy.
Gordon Powers also cater to time-tested and bespoke electrical repair and installation services. We'll make sure your productivity is optimal, and you won't experience any interruptions as we'll be happy to work on your most convenient hours.
Call us at (02) 9199 7480 for an appointment or inquire with us via our contact page.