Level 2 Electrician Mortlake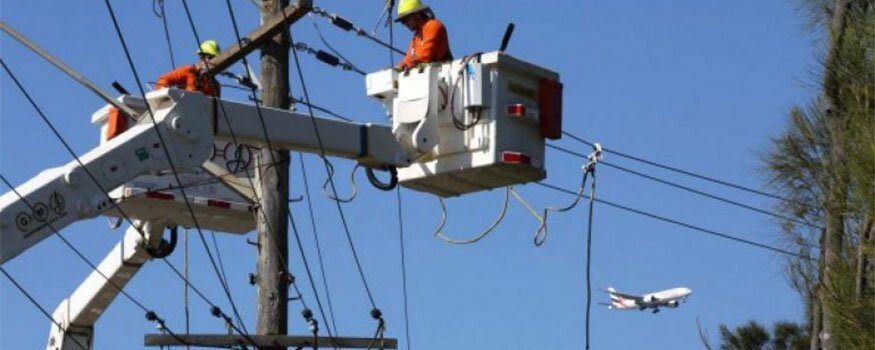 If something seems wrong with your main lines, you need a prompt Level 2 Electrician Mortlake to check the problem as soon as possible. Worry no more. Gordon's Powers Level 2 Electricians Mortlake is here to be of excellent service across Mortlake. We perform excellent repairs and installations to ensure your mains service lines are working smoothly.
Gordon's Powers Level 2 Electricians are licensed and skilled to perform all types of services in consumer service lines. Plus, we are authorized by Ausgrid and Endeavor Energy. For over 10 years in the business, we have extended honest and topnotch services to our valued customers leaving them the satisfaction they need.
Having a Level 2 Electrician you can rely on in case of advanced and complex electrical problems is highly important. That's why Gordon's Powers Level 2 Electricians are always ready to do the following repairs and installations for you.
Service Upgrades
Single Phase to Three Phase Service Line
Many existing single phase service lines are still present in many properties. Single phase are used by properties with minimal use of electricity. However, when there is more demand of electricity, an upgrade to three phase service line is needed. Three phase lines are used by large businesses, industrial units, and others.
Switchboard Upgrade
A switchboard or fusebox upgrade is necessary when serious signs of malfunctions occur such as frequently tripping fuses and overloading. Old fuseboxes are not capable of handling the demand of electricity of many advanced appliances. In this case, our electricians will perform the evaluation and decide on what type of upgrade your fusebox needs.
Consumer Mains Repairs and Installations
Overhead/Underground Consumer Mains Installations
There are 2 types of service lines which are the overhead and the underground service lines. The overheadservice lines are commonly installed for small properties. Gordon's Powers Level 2 Electrician Mortlake is experienced in installing both service lines to all types of properties such as residences, businesses, industrial units, and commercial areas.
UV Damaged Cable Lines
Cables that are not of good quality and has been used for many years may get UV damaged. This damage should be given attention to right away by your local Level 2 Electrician. Gordon's Powers can increase the insulation of damaged parts or recommend complete replacement for multiple damages.
Gordon's Powers is the best to depend on in times of electrical emergencies regarding consumer mains. We also offer our excellent services in affordable rates.
Emergency Electrician Mortlake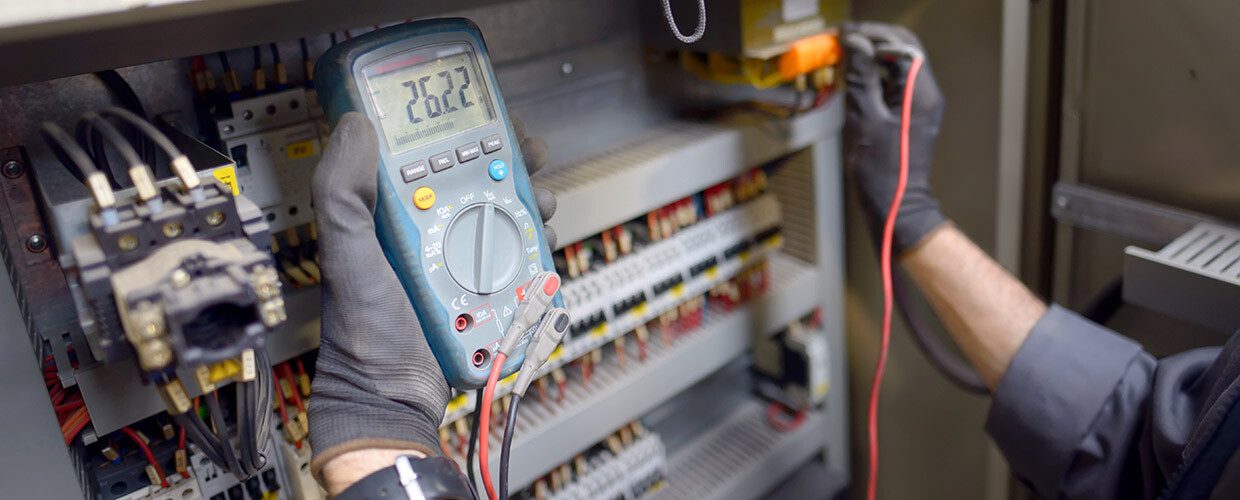 Don't underestimate any small signs of electrical danger. In times of electrical problems, you need the best team of Emergency Electrician Mortlake that you can depend on to rescue you from any electrical distress. No need to worry. Gordon's Powers has the best team of Emergency Electricians who are prompt and reliable to attend to all your electrical emergencies. Having us to check on your electrical systems and performing repairs will ensure increased safety for your family and property.
We built a high reputation in Mortlake for our excellent and reliable services for over than ten years. We continue to provide satisfaction to our valued customers by being the fastest team to respond. With our 24/7 emergency electricians, rest assured that you have someone to call anytime.
It is important to know the following signs of electrical emergencies to prevent danger:
Tripped Fuses – Fuses are meant to trip to protect the electrical systems. However, if the tripping has been frequent, your electrical system has to be checked right away to identify the cause of the problem. Your local emergency electrician will then perform the necessary repair, installation, or upgrade.
Faulty Appliance – Whenever your appliance keeps on causing short circuit when plugged, it must have loose wiring, damaged compound, and others. This problem has to be checked to get the circuits fixed as well as your appliance wiring.
Wet Wires – Checking your wire location and condition whether they are damaged or wet. When wires get in contact with water, it poses serious harm such as electrocution and others. Having an emergency electrician attend to the problem is best solution.
Smoke and Sparks – These are serious signs of electrical emergencies. Smoke and sparks may be seen in outlets, wires, fuseboxes, and appliances. Seeing them firsthand has to be given immediate attention. Shutting off the main switch can help prevent further damage, but the emergency electricians have to be called quickly to check the problem.
Gordon's Powers is dedicated in increasing everyone's safety from electrical problems in Mortlake. Our emergency electricians perform keen and careful checking on all types of errors. Using the best quality of equipment and materials, all repairs and installations are done excellently.  You never have to worry of costly services because we offer affordable rates and special offers to our valued customers in Mortlake
Smoke Alarm Installation Mortlake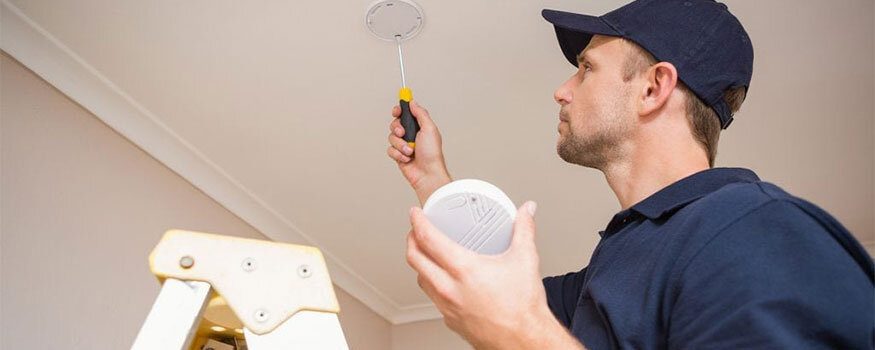 Never put your life at risk by not being alerted of a potential fire. It's best to have a Smoke Alarm Installation Mortlake to increase your safety. For topnotch smoke alarm installations, turn to Gordon's Powers team of skilled and experienced electricians. We are the best team to perform all types of repairs and installations you may need for your smoke alarms.
Our trustworthy team has been providing the best smoke alarms installations in Mortlake for over than 10 years. We are the most in demand team because of our honest and excellent performance. We always leave our customers the satisfaction of having an increased safety. We have been a part of protecting homes, businesses, and many properties.
Gordon's Powers is highly knowledgeable in installing all types of Smoke alarms such as:
Photoelectric Smoke Alarm
The Photoelectric Smoke Alarm is perfect for detecting slow burning fires. Alerting you before the fire start, there is an increased time for evacuation. Some slow burning fires are commonly caused by electrical faults.
This type of smoke alarm works best in detecting fires that grow rapidly, and they may be caused by burned chemicals, faulty appliance, and even arson. Our team will evaluate your area and recommend this type of smoke alarm if you have good ventilation where fire grows rapidly.
The Dual Smoke Alarm has both ability to detect slow burning and rapidly growing fires. This is an in-demand type that most homes and business have installed.
Gordon's Powers can also plan and customize your smoke alarm systems. We install the interconnectable smoke alarm to larger properties such as high rises, commercial buildings, office buildings, and industrial areas. Having many rooms and floors, smoke alarms are needed to be installed in proper locations to ensure safety. Everyone in the premise will be alerted real time. Using an isolator button, the first triggered alarm will be identified easily.
Our services are highly recommended by our valued customers because of our reliability, honesty, and excellence. Our repairs and installations are performed using the best equipments with the skills of professional electricians. Apart from helping with your safety, we have affordable rates that can keep up with your budget. Before doing the job, we provide upfront pricing with no hidden charges.
Switchboard/Fusebox Repairs and Upgrades Mortlake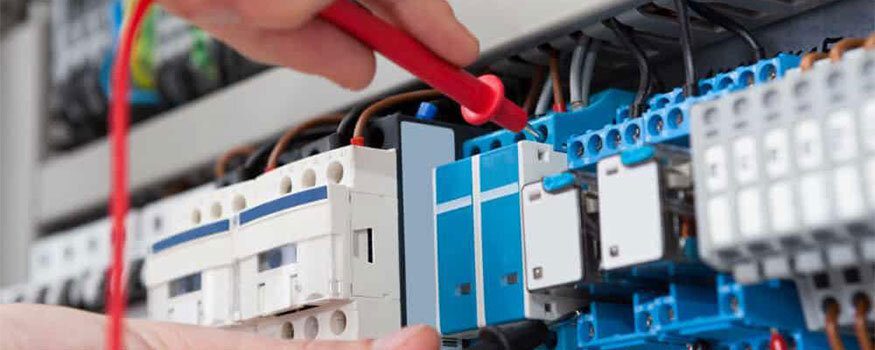 Are you having a hard time keeping up with your old fuseboxes? You don't have to bear with it and have a Switchboard/Fusebox Repairs and Upgrades Mortlake as soon as possible to reduce the risk of more electrical problems and even danger. Gordon's Powers team of skilled and licensed electricians are here to help you solve all your fusebox problems.
Gordon's Powers has professional and experienced electricians to perform all necessary services to ensure that your fuseboxes are in good condition. For over than 10 years in the business, we have the best knowledge and experience in repairs and upgrades. You can also rely on our prompt and honest services.
The fusebox's role is to protect your whole electrical system. Fuses are meant to trip in case of overloading, short circuit, and more. If your fusebox doesn't have the capacity to provide protection from these electrical problems, more damage can happen. That is why upgrading old and obsolete fuseboxes is highly important.
Overloading is one of the common causes of fusebox problems. Old fuseboxes are designed for old electrical systems and appliances. This means that these fuseboxes have fuses with low amperage that can only handle low electricity demand. Increasing the fuse amperage can solve the overloading. However, it is not a long-term solution. The best solution is to upgrade your fusebox. This allows your electrical system and appliances to work smoothly.
Tripped fuses are also results of short circuit. When this happens, some compounds in the fusebox may get damaged. This needs an immediate repair which our team is highly dependable in. We check the problem carefully and do the required repair, replacement, and installation.
Gordon's Powers also perform new Fusebox installation for newly built or opened properties. We can provide the best type of Fusebox according to your electrical system's demand. We extend our Switchboard/Fusebox Repairs and Upgrades Mortlake from small to big properties. Rest assured that all services are done with honesty and perfection.
Why hire us?
Our business' main goal is to extend the best and professional services to increase our valued customers' safety from any electrical problems. We never fail on giving satisfaction from our repairs and upgrades. On top of it all, we have affordable rates and special offers. These made us highly recommended across Mortlake.
Hot Water Heater Repairs and Installation Mortlake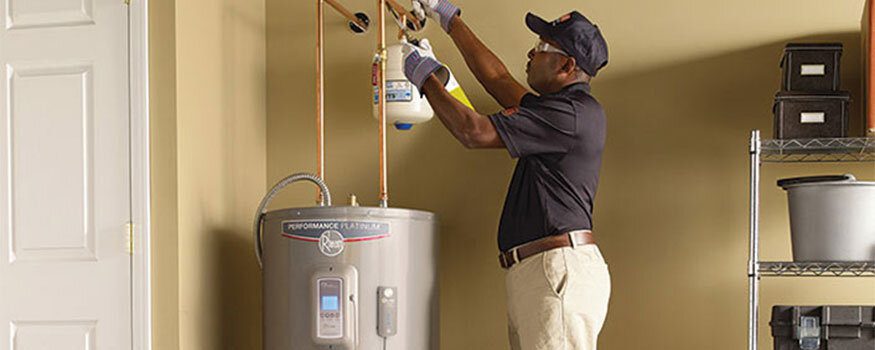 Is your hot water heater not working well recently? Have it checked by the best team of electricians from Gordon's Powers to do Hot Water Heater Repairs and Installation Mortlake. Let us examine your existing hot water heater and identify what is causing the problem. With the highest skill and best knowledge in hot water heaters, rest assured that Hot Water Heater Repairs and Installation Mortlake are in safe hands.
Hot water heaters need to be in good condition more importantly during cold days. Gordon's Powers will assure of excellent Hot Water Heater Repairs and Installation Mortlake. For over ten years in the business, our services have left a very good impression to all our valued customers.
Our team is well-experienced in installing all types of Hot Water Heaters such as:
Storage Hot Water Heater
The Storage Hot Water Heater is the most common type of water heater being chosen by people. This unit has a storage tank wherein the water is heated by heating elements and stored for ready use. Temperature is controlled using a thermostat.
Demand Type Hot Water Heater
Having no storage tank, this hot water heater produces hot water only when needed. The water is heated by heating coils only when a faucet is turned on. Get your Demand Type Hot Water Heater repairs and installation in Mortlake from your best local electrician.
There are also types of hot water heater that uses alternative energy. The Hybrid Hot Water Heater uses hot temperature from the air to heat water in a storage tank. This type of water heater is ideal in areas with hot temperature. Next is the Solar Hot Water Heater. Using solar panels, energy from the sun is collected. The energy is then used the heat water in the storage tank.
Gordon's Powers electricians are dependable in hot water heater repairs. Whenever you see the following signs in your hot water heater, contact us right away.
Damaged Thermostat
Thermostats are responsible in controlling the hot water in a storage tank. When it seems to be not working the way it used to, it needs to be checked to avoid further damage to the heating system. Moreover, a damaged thermostat can cause the water to become too hot which can hurt when used.
Loose Wiring
Just like other appliances, loose wiring may also occur to hot water heaters. It may cause the water heater to malfunction.