Level 2 Electrician Breakfast Point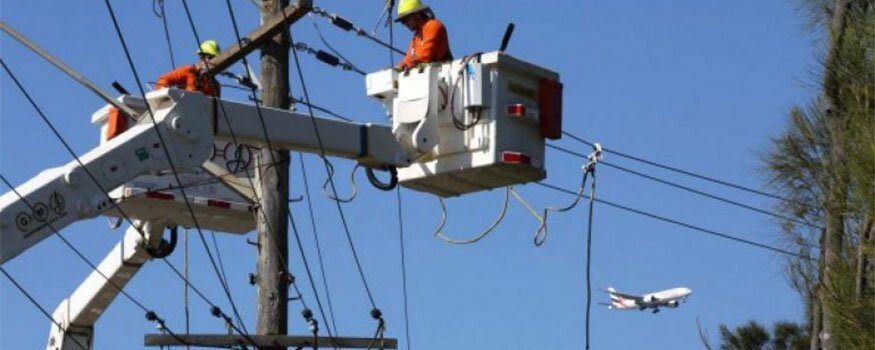 Are you planning to apply for off-peak relay electricity in Breakfast Point? Allow Gordon's Powers level 2 Electrician Breakfast Point service to assist you with installing your subscribed off-peak relay and the corresponding metering equipment. Off-peak relay electricity uses a different meter that is only billed during off-peak times which normally falls during the nights and/or weekends. If you are unsure how this works, you are free to call Gordon's Powers anytime and we will guide you how to apply for one without any consultation obligations from our side.
Why you should apply for off-peak relay electricity in Breakfast Point?
Get the same electricity supply but with lower charge during off-peak hours.
Experience less hassle with overloaded consumer mains as other residential and business facilities mostly consume electricity during peak hours.
Save more by using your high-energy consuming appliances during off-peak hours such as hot water heaters, boilers and others.
Your reliable Gordon's Powers Level 2 Electrician Breakfast Point has more than 10 years of hands-on experience in handling consumer mains. Our Level 2 electricians can handle simple to complex Consumer Mains Repairs Breakfast Point like:
UV Damage Consumer Mains in Breakfast Point
Meter repairs and replacements
Worn out power cables
Damaged or knocked down power poles
Hanging cables on mains service lines
And more!
Furthermore about UV Damage Consumer Mains in Breakfast Point, if you receive a defect notice from either Endeavour Energy or Ausgrid, call Gordon's Powers immediately so we can fix your power cables. Everyday, the power lines receive a high amount of UV rays from the sun. The effect is even greater when there are exposed wires as the wires can get hot and might cause an electrical fire. In this case, let our Level 2 Electrician lessen the hassle by quickly adding insulation or replacing the damaged cables. Once the solution is applied, we will test everything before we resume your power connection.
Gordon's Powers Level 2 electricians at Breakfast Point are licensed and only provide the best workmanship that is hard to find from other service providers. We do not stop unless we do our job with high quality results that is up to your satisfaction. Not only that, our Level 2 services comes with affordable prices, giving more freedom to plan your budget ahead of time. We will discuss all prices upfront so you will not be surprised with additional costs once we finish the job.
Emergency Electrician Breakfast Point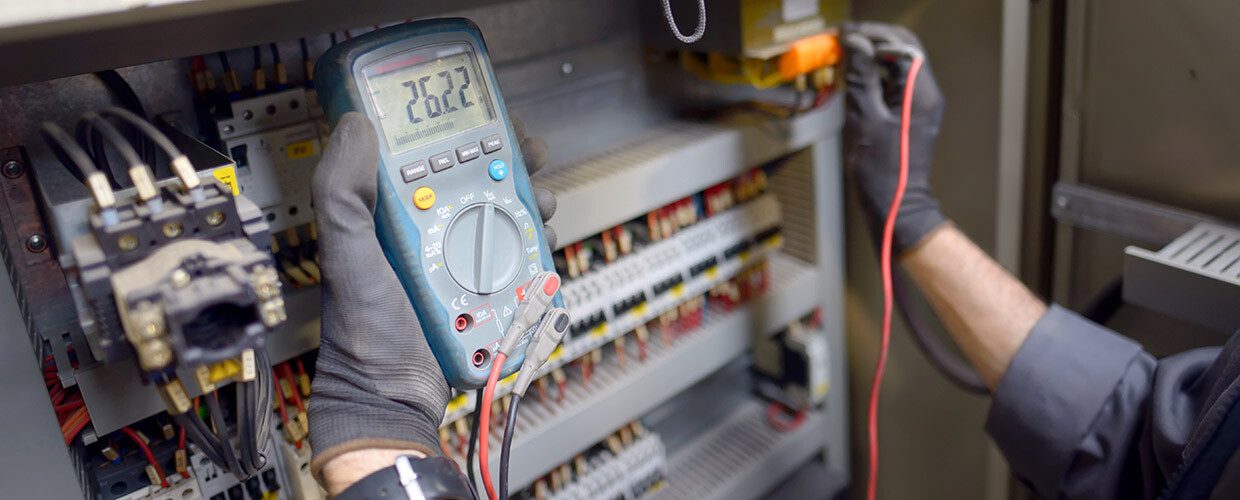 It is always a tough thing to deal with any electrical emergency when you can't get a fast Emergency Electrician Breakfast Point. If you are living in Breakfast Point or own a business or two, you have to be vigilant of potential electrical emergencies and should get in touch with Gordon's Powers Emergency Electrician Breakfast Point to bring the help you need. We have full emergency coverage in Breakfast Point and nearby suburbs in Inner West Sydney. Our team can arrive at the emergency location in an hour or less.
24-hour Emergency Electrician Breakfast Point
In Inner West Sydney, Gordon's Powers is one of the fastest emergency response teams that are reachable in no particular time of day or night, especially in Breakfast Point. We cover all hours of the day and all days of the year. We do not stop providing an awesome service to every homeowner and business owner in the entire Sydney area and make sure that we are with them in times of desperate need for an emergency electrician.
It brings relief knowing that you have a team of professionals that are always on the watch and ready to jump into any situation concerning any electrical emergency. At Gordon's Powers, our promise is to rescue you from electrical dangers no matter what the circumstance is. Trust that our local Breakfast Point emergency electricians are always available to work on incidents such as:
Power cables and poles knocked down by lighting.
Storm is very destructive not only in the agricultural aspect but it has a main impact on electricity. A lightning can easily knock down power poles and flare up cables once it strikes it. If you see one or if your power pole and cables are damaged by lightning, immediately contact Gordon's Powers and we will send our best emergency electrician Breakfast Point to shut down the power, repair or replace the severed pole and cables and resume power. We do not delay any call for help, rain or shine.
Overhead mains knocked down by trucks.
One of the common scenarios in overhead mains is that cables are getting knocked down by high trucks such as cranes despite a low overhead signage. You can get Gordon's Powers to fix damaged power cables so it won't be left hanging and cause more trouble to some bystanders or vehicles.
For all other electrical emergency issues or if you are unsure you are faced with one, just call Gordon's Powers and we will assess the situation for you and have it resolved on the first visit.
Smoke Alarm Installation Breakfast Point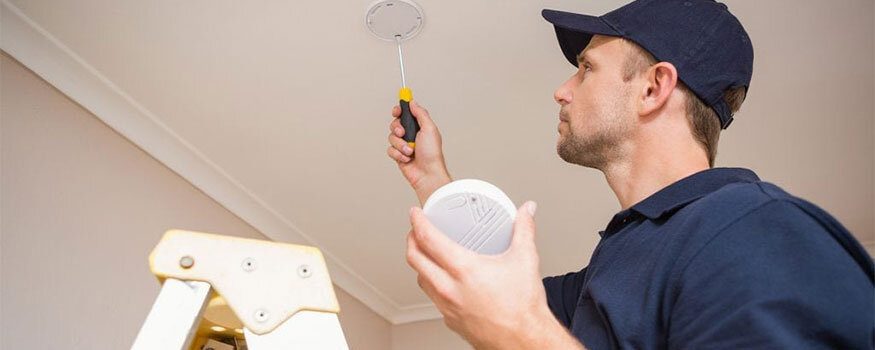 Have you worked with an electrical contractor for Smoke Alarm Installation Breakfast Point to install your smoke alarm system but that is unable to present you with a Compliance Certificate? Then after a few days, you noticed that your smoke alarm is not working after a short-lived electrical fire? Perhaps you might want to get Gordon's Powers to redo the work by the unlicensed electrician. Our Smoke Alarm Installation Breakfast Point service if absolutely reliable and are backed with lifetime insurance only because it is done by our certified and licensed smoke alarm expert electricians.
Smoke sensors are very useful in the prevention of fire and can greatly save lives and a big deal of assets. It should only be installed by experienced professionals and must be tested after fitting. With Gordon's Powers, we always check and do regular inspection in all smoke alarm installation works that we do. It is a matter of ensuring that your smoke alarm system is working properly.
Gordon's Powers has the ability to do a quick evaluation of your homes and business buildings to determine the installation points which allows every smoke sensor to efficiently and effectively sense smoke from all parts of your building. Below are our installation points and standards in accordance to the regulations set by the Fire and Rescue NSW department:
Recommended smoke alarms:
Hard-wired or those smoke sensors that are directly connected to mains electricity is highly recommended. Gordon's Powers will make sure that your hard-wired smoke detectors are interconnected with each other and will create an alarm in every level of your homes and office. If hard-wired is not suitable to your place, we will setup wireless or battery-operated smoke sensors that can send signal to each other to properly alert every member of your family or tenant of your commercial building.
Located at every sleeping area. 
You are always left unguarded when you are asleep. A properly installed smoke alarm in every sleeping area will warn you of the danger of a fire breakout. If you have no smoke sensors in each sleeping area of your home or break rooms in your offices, Gordon's Powers can help install smoke sensors for you. Our team will rewire additional sensors and make sure that each can send a signal to the rest of the smoke detectors to warn everyone in the premise.
Switchboard/Fusebox Repairs and Upgrades Breakfast Point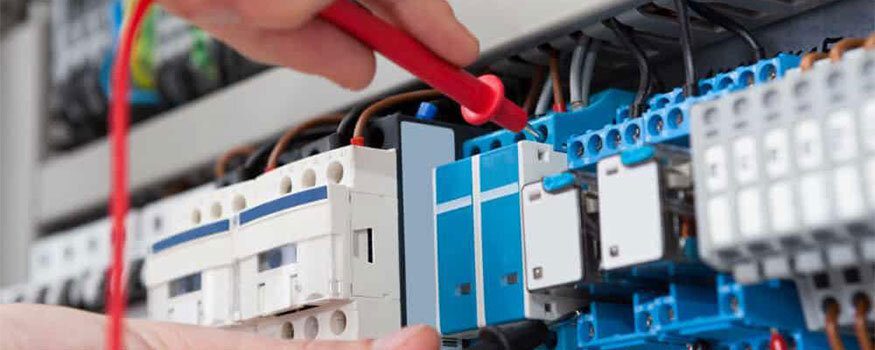 If you think you need a Switchboard/Fusebox Repairs and Upgrades Breakfast Point for your home or commercial building, do you know what to do? Gordon's Powers can help you with all your worries. As a matter of fact, we can do all the work and you would not have to do anything at all but to confirm your satisfaction of our quality workmanship. You can count on our Switchboard/Fusebox Repairs and Upgrades Breakfast Point anytime you encounter any problem with your switchboard. We have more than a decade of experience in performing intensive switchboard repairs and upgrades.
When To Upgrade A Switchboard?
Getting the right timing on when to upgrade switchboards is a critical thing to keep in mind. If you rush into the upgrade. It is best to have Gordon's Powers' team of licensed electricians to conduct an evaluation of your entire electrical system and determine if your switchboard just need a repair or already requires an upgrade.
Here are among the top reasons why you need to upgrade your switchboard:
Old fusebox
How do you know if you are using an old fusebox? If you physically check your panelboard and found fuses inside the box, it means that you are using an old fusebox. Electrical fire can likely happen due to fuses that can easily get hot when handling too much electric load and aluminium wirings which are no longer encouraged for use. Gordon's Powers would be happy to offer you with upgrade solutions of modern switchboxes that are designed to handle extra load and are compatible to supply electricity to the latest technology of today like new appliances, gadgets and devices.
No RCDs
Today, the need to use RCDs (Residual Current Devices) is already strictly imposed according to Australian Standards. RCDs regulate the amount of current that enters your premise coming from your mains service lines. It also shuts down your power if an overloaded circuit is detected. Our team at Gordon's Powers can supply you with safety switches and high-quality circuit breakers to safeguard your lives, appliances and your entire property.
Overcrowded fusebox
An overcrowded fusebox means that your current switchboard can no longer support all the appliances and equipment. Tapped wirings or inorder connections can cause short-circuit and even create bigger problems if not fixed right away. Gordon's Powers electricians can provide you with the right switchboard that suits your household and business needs.
Hot Water Heater Repairs and Installations Breakfast Point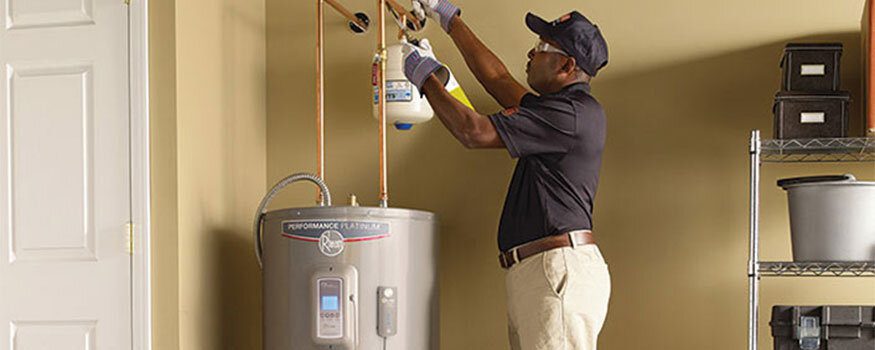 Was it already 5 years when you have your hot water heaters installed and looks like you need a Hot Water Heater Repairs and Installations Breakfast Point? If you are a homeowner or operating a business in Breakfast Point, do not wait until your water heater fails. The more your hot water heater fails, the higher cost you will have to pay for repairs. Gordon's Powers can help check if your hot water heater is still in good condition and provide you with effective Hot Water Heater Repairs and Installations Breakfast Point service with the most affordable prices.
Gordon's Powers has made a good lasting impression in providing fast and quality hot water heater repairs in Breakfast Point and rest of Inner West Sydney suburbs for more than 10 years now. Our repair works reflect  our strong knowledge about our craft and solid dedication in pleasing our fellow Breakfast Point locals by extending the life of water heaters, allowing them to save more. We use only quality and genuine materials and replacement parts so your hot water heaters can operate to the maximum functionality like it was during its first 2 years.
You can be sure that hiring our team of licensed electricians to handle your hot water heater concerns will serve you all the benefits you are looking for in an electrical provider. We do not miss the opportunity to impress our customers with our cost-effective repair solutions. We always conduct a series of tests to check the status of every component within every hot water heater and just replace the damaged part. We do not just recommend you to buy the part, we will explain what happened and why the part needs replacement. We never lure our customers to get new components or the whole unit when it can still operate after our repair is made.
Hot Water Heater Installation Breakfast Point
With Gordon's Powers, our team can supply you with reliable and top of the line hot water heaters from trusted brands such among the few below:
Rinnai
Bosch
Vulcan
Dux
Rheem
Sanden
AquaMAX
Do not ignore safety precautions when choosing the right hot water heater for your homes and commercial use. If you decide to use a second-class hot water heater appliance, you might face the consequences of not getting the right water heater in the first place. Let Gordon's Powers evaluate your hot water needs and give you a wide variety of options on whether you need to use electric, gas, solar or tankless hot water heater. It is always the best move to hear advice from your friendly Gordon's Powers electricians to avoid wrong investments.